Soak in a Preview of the 'SpongeBob SquarePants' Holiday Special! (VIDEO)
Everyone's favorite pants-wearing sponge is ready to deck the halls and celebrate the season in a brand-new holiday special.
In "SpaceBob MerryPants," SpongeBob SquarePants, Sandy and their "Science Scout" troop take a trip to the moon. Sandy leads the scouts through space for scientific exploration, where SpongeBob finds that life exists in the form of a Krabby Patty, Sandy studies the moon's gravitational effect on nuts, and Squidward goes to the dark side.
See Also
The show is pushing the boundaries of what TV can do.
After an explosive mishap with a jack-in-the-box, the troop is left in an astronomical situation, where they luckily find the one person who can help them out — the big, jolly old man himself, Santa Claus!
Check out a Clip!

Actor and comedian Lewis Black lends his voice as Santa Claus, but since Black's comedic stylings are that of a sarcastic and profane curmudgeon (he also voiced "Anger" in Disney/Pixar's Inside Out), this Santa has a 50/50 change of being grouchy, instead of jolly.
SpongeBob SquarePants: "SpaceBob MerryPants," Sunday, Nov. 25, 11am/10c, Nickelodeon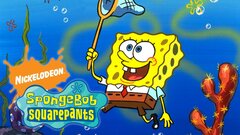 Powered by