Kellie Pickler Makes Her Acting Debut in Hallmark's 'Christmas at Graceland'
"I hope that everyone enjoys the film, and has grace for my acting debut," laughs Kellie Pickler.
On Nov. 17, the country superstar stars in Hallmark Channel's holiday film Christmas at Graceland. The film not only features holiday music made famous by Elvis Presley, but was also filmed on location at Graceland and around the city of Memphis.
Pickler stars as Laurel, a busy exec who returns to her hometown for work and rediscovers her love of the blues.
"Laurel is a bank executive, and she was coming to Memphis to close a deal. And while there, she's showing her young daughter Graceland and Memphis for the first time," explains Pickler. "She gets back to her roots, and she bumps into an old flame [Wes Brown] who helps get her feet on solid ground and find her way back to music."
Pickler sings multiple holiday songs in the film and was gifted the opportunity to re-record six holiday songs made famous by Elvis, including "Santa Bring My Baby Back (To Me)," "Merry Christmas Baby" and "Blue Christmas."
Pickler knows she has big, blue suede shoes to fill and marvels, "No one could ever fill those shoes, but it was an honor to just be able to go into the studio and record these classic songs."
Christmas at Graceland is the first time that Elvis' legendary home has hosted a film shoot, and Pickler relished the opportunity to step behind the velvet ropes.
See Also
The Queen of Hallmark shares the new promo for her upcoming holiday flick, 'A Shoe Addict's Christmas.'
"Every room has a story to tell," she says. While scenes take place all over the iconic mansion, they mostly filmed in the grand living room area — the peacock room. The film takes advantage of Graceland's already magnificent holiday decorations — including blue lights that Presley's father installed along the sweeping driveway — plus adds a sprinkle of Hallmark's signature holiday magic.
Pickler, who also cohosts the Emmy-nominated talk show Pickler & Ben, reveals that despite performing in Memphis several times, this was her first visit to Graceland.
"Generally, you do a show, you hop on your bus, and you have to get to the next city so you can set up and do it all over again," she laughs. "So, I was never able to be a tourist in Memphis."
The singer also says that performing at Graceland is an experience she'll never forget. "It was amazing. I felt so blessed, and I didn't want it to end."
For Pickler, one of the highlights of her time at Graceland was getting to know Elvis.
"Getting to know about the man behind the songs," she shares, "I was just so humbled to be there and go around his home and his property and learn more about his story, and discover the roots of who he was as a person. I got to know the human versus the superstar."
"I know how loyal Elvis' fans are, and I hope that I make them proud by honoring his music," Pickler says and reveals that singing "I'll Be Home for Christmas" in the film is especially emotional for her because of her strong connection to the USO.
"I always think of soldiers overseas when I sing that song," she shares, and reveals that while shooting Christmas at Graceland, she learned more about Presley's time in the Army. "I was so enamored by Elvis' story and his military experience," she says. "I have an even greater appreciation for everything that he did."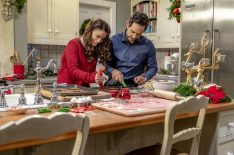 See Also
Stars from 'Fuller House,' 'The Flash,' 'One Tree Hill' and more are set to appear.
Pickler's favorite holiday tradition is visiting with and performing for service members around the globe.
"All year I look forward to it," she says. "I know that sounds silly, but I'm like, 'Okay, are we going to wake up in Kandahar at Christmas?' These men and women are sacrificing so much, and they miss their families. They want to be with their kids and their wife or husband and loved ones on Christmas. There's nowhere they want to be but home. … So I'm going to bring home to them."
Although this was Pickler's first time starring in a movie, she hopes it won't be her last.
"I cannot believe that this opportunity even came along, but I'm so thankful," she says. "It's really been a wonderful experience and a safe place for me to explore the acting world. … And I would do it again in a heartbeat. I had so much fun!"
Christmas at Graceland, Saturday, Nov. 17, 8/7c, Hallmark Channel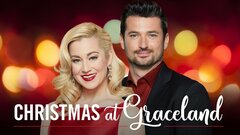 Powered by