'Supergirl' Fans, Meet Your Lex Luthor! Jon Cryer Cast as Iconic Villain
A new baddie is coming to town.
After weeks of fan speculation over who The CW's Supergirl would cast as cast as Lex Luthor, the billionaire villain who infamously hates Superman in the DC Comics, we now have a name — and it's a big one. Meet your new Lex… Emmy Award-winning actor Jon Cryer!
The Two and Half Men alum will first appear in the villainous role in Episode 15 this fourth season, and will continue on in a recurring basis.
"We are enormous fans of Jon Cryer, and he was instantly our dream actor to play the iconic role of Lex Luthor," said Supergirl executive producers Robert Rovner and Jessica Queller. "Jon is a super-talent, and the fact that he played Lenny Luthor in Superman IV brings an added layer of legacy to his casting. We're beyond thrilled to welcome Jon to the Supergirl family."
Rovner and Queller said about the introduction of Lex, "We're beyond excited to introduce iconic villain, Lex Luthor, to Supergirl and to weave him into our story this season.
"We've talked about having Lex on the show since it's inception and we're excited to have him finally arrive. We can't wait for him to shake things up in National City and watch him go toe to toe with not only Supergirl, but his sister Lena Luthor (Katie McGrath)," they added.
So what do you think of this casting? Sound off in the comments below. And for more Supergirl, don't miss the The CW's epic crossover event "Elseworlds."
The Flash, Sunday, December 9, 8/7c, The CW
Arrow, Monday, December 10, 8/7c, The CW
Supergirl, Tuesday, December 11, 8/7c, The CW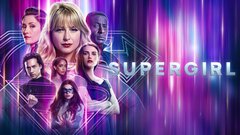 Powered by