We Want Your Lex! Who Should Play Lex Luthor on 'Supergirl'?
After multiple mentions and the looming specter of the worst Luthor on every Earth, Supergirl is getting some Lex appeal. We just don't know who will be playing him yet.
The CW and Warner Bros. TV have announced that they are bringing the notorious bad guy to the Supergirl universe in a recurring role. "We're beyond excited to introduce iconic villain, Lex Luthor, to Supergirl and to weave him into our story this season," declare executive producers Robert Rovner and Jessica Queller in the release.
See Also
Learn more about Season 4's most complicated new character.
The continue, "We've talked about having Lex on the show since it's inception and we're excited to have him finally arrive. We can't wait for him to shake things up in National City and watch him go toe to toe with not only Supergirl, but his sister Lena Luthor."
As fans know, Lena (Katie McGrath) doesn't have the warmest of feelings for her half-brother and former CEO of L-Corp, who is currently serving 32 consecutive life sentences. Nor does Supergirl's cousin Superman (Tyler Hoechlin), as proven by 78 years of comic-book conflicts and all of those seasons of antagonism between Michael Rosenbaum's Lex and Tom Welling's Clark on Smallville.
How or if this take on L.L. actually gets out of Stryker's Island Penitentiary remains to be seen. However, given that Mama Lillian (Brenda Strong) hates space folk because her boy was sent away, we can only imagine that things are only gonna get a lot worse for Kara (Melissa Benoist) now that there's been a sudden spike in anti-alien sentiments in National City.
Lex has previously appeared in teen form played by Aidan Fink in Season 2's "Luthors" episode.
Casting will be underway shortly for the recurring role, so now is your time to offer some suggestions in the comments below. And remember, they have to look hot without any hair… because this is still The CW, after all.
Supergirl, Sundays, 8/7c, The CW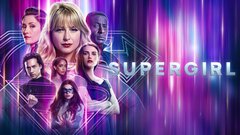 Powered by