'The Good Doctor' Finally Reveals Why Lea Moved Back to California
[This post contains light spoilers from "Hubert," Season 2, Episode 7 of the The Good Doctor.]
The more screen time shared between Lea (Paige Spara) and Shaun (Freddie Highmore) on The Good Doctor, the better! This adorable friendship is a perfect juxtaposition to the intense medical cases the residents and surgeons face at San Jose St. Bonaventure Hospital in ABC's hit drama.
In The Good Doctor's latest episode, fans learned a little more about Lea and her decision to return to California after a brief period at home in Hershey, PA. After the new roommates decided to get a goldfish and it unfortunately died, she had a mini-breakdown.
See Also
We learned more about her background before becoming a resident.
"The fish isn't the problem," Lea said in tears. "I am. I'm pathetic. I went home to Hershey because I wasn't fulfilled with my life. I thought I could help my bull-headed brother save the shop, be a part of something I was passionate about. Instead, we ended up tanking it together, along with our relationship. Came back here to get my life back on track, and how am I supposed to do that if I can't even keep a damn fish alive?"
Shaun listened and decided to help out Lea by proving it wasn't her doing that killed the fish — it was the water that had problems. So, he went back to the pet store and demanded a new goldfish.
"Thank you, Shaun, for caring for our fish while sorting out my problems," she said.
Last season, Lea mysteriously disappeared for half of the season, then returned and was angry when Shaun didn't want to talk about why she left. Their relationship eventually got back on track after they moved in together.
The Good Doctor, Mondays, 10/9c, ABC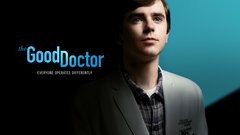 Powered by