'The Good Doctor's Paige Spara Predicts Lea & Shaun's Relationship Will Be 'A Very Slow Burn'
#Brangelina and #TomKat didn't last, but will #Shea stick? That's the new fan nickname for Dr. Shaun Murphy (Freddie Highmore) and his first crush — and kiss — Lea, played by Paige Spara, The Good Doctor's cute will-they-or-won't-they couple.
Originally booked for two episodes last season, Spara ended up doing six on the ABC hit. This year, she's a regular, with her character — an automotive engineer by trade — having returned from Hershey, Pennsylvania, to San Jose, California.
"It's amazing how positive the reaction to Shaun and Lea has been," says the actress, whose only other series work was ABC Family's short-lived Kevin From Work. "I love working with Freddie. He's funny, mischievous and so collaborative. He's become one of my closest friends, and I love being around him."
Art is imitating life: Lea has been platonically bunking with her old pal, who's recovered from the heartbreak of her last departure. But are more flutters in the works? Their relationship "will be a very slow burn," Spara predicts, and tonight sees a joint decision that could bring them closer. "People will enjoy watching their dynamic as they work out what kind of personal space they need, how to address each other's emotions and what they can learn from each other."
And Spara emphasizes that Lea is most definitely not acting out of pity for Shaun, who's on the autism spectrum. "Their relationship is a beautiful reminder of empathy, friendship and connection," she says. "Her friendship with Shaun grounds her. I think it's very relatable." #WeArePsyched
The Good Doctor, Mondays, 10/9c, ABC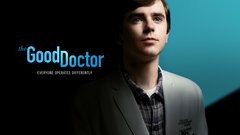 Powered by