'The Good Doctor': Fiona Gubelmann on Why Morgan Needs to Become 'More of a Team Player'
[This post contains spoilers from Season 2, Episode 6 of The Good Doctor.]
Fiona Gubelmann was meant to play doctor on TV. In college, she started out in pre-med then switched over to theater due to her love of acting, so nabbing the role of Morgan Reznick on ABC's The Good Doctor was a full circle moment.
"I'm having such a great time on the show," Gubelmann admitted in an interview with TV Insider. "Morgan is such a stimulating character. Her intelligence and confidence is something I've never had the opportunity to play before, so it's a dream for me."
See Also
Monday night's episode about Dr. Murphy's mentor was the saddest one yet.
Morgan's drive and competitiveness was on full display on the medical drama's latest episode, "Two-Ply (or Not Two-Ply)," when a young violinist comes in with an infected finger after getting a manicure and her condition quickly takes a turn for the worse.
Gubelmann reflected on why this case affected her character so much and how Morgan can change from this diagnosis.
Why does this case affect your character so much?
Fiona Gubelmann: Morgan is a very driven character, very hard working. She's someone who had dreams and things that she strived for and she lost out on them. When she sees Jas (Supinder Wraich) as having similar qualities to herself, she connects to that and admires it. She also, because it's Morgan, doesn't like to be wrong and she doesn't like to fail.
Morgan isn't shy about butting heads with Shaun.
Morgan admires Shaun. She knows that he's very intelligent and has gifts that not everyone else has. Morgan actually cares about Shaun and tries to help him throughout the season. I know fans get upset with Morgan sometimes because she can be a bit blunt and give unsolicited advice. In this particular case, Shaun wants to do a test that is invasive and most likely damage the patient's hand and ruin her career. Morgan gets frustrated but still tries to talk with him and tell him he's getting a bit obsessive and scaring the patient.
And I'm now freaked out about getting my nails done.

To be perfectly honest, I haven't had a manicure or a pedicure since this episode!
See Also
From 'The West Wing' to 'Girlfriends' Guide to Divorce' and beyond.
What does this story line say about competition?
We start to learn in this episode that in the past Morgan was a competitive athlete — an Olympic hopeful. She thrives on competition, she enjoys it. At the end of the day, Morgan's not going to do anything to hurt her fellow residents but she's definitely going to do everything she can to be the best.
When Dr. Melendez (Nicholas Gonzalez) gives her a pep talk at the end of the episode. [He tells her that] instead of being competitive with everyone else, it's really about trying to be the best that you can be. Hopefully, we'll start to see Morgan become more of a team player.
Elsewhere in the episode, we see Shaun and Lea trying to live together. Do you think they make a good match?
Absolutely. Lea is a free spirit and she's a nice foil to Shaun's character, who is very rigid and has these rules. To see the two of them learning from each other and growing is lots of fun.
The Good Doctor, Mondays, 10/9c, ABC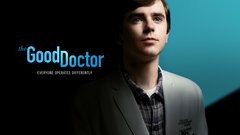 Powered by