'Legends of the Lost with Megan Fox': Travel Channel Series Will Explore Ancient Mysteries
Actress Megan Fox is teaming up with Travel Channel for a four-part series called Legends of the Lost with Megan Fox.
Set to premiere Tuesday, December 4, Legends of the Lost will see Fox explore ancient mysteries, legends and the lore of civilizations past. She'll meet with experts and archaeologists and look through documents and artifacts, all to find answers about things like Stonehenge, the Trojan War, the Vikings, and the first North American settlers .
See Also
Wildlife expert and host Anderson is shattering animal stereotypes.
"All across the world, our ancient ancestors left behind towering mysteries and enchanting myths," said Fox in a statement. "As an actress, I've been lucky enough to peek behind the curtain at some of these ancient sites, and it has ignited an insatiable curiosity in me to learn more about these lost worlds that are deep in our distant past."
That curiosity will drive her investigations within each episode, including the premiere which will follow her to Scandinavia and England. While there, the New Girl alum will explore the belief that female warriors aided in making the Vikings "the most feared army of the time."
New archaeological discoveries support the theory Fox explores as previous beliefs that the Viking army was made up solely of men comes into question. The weekly, hour-long episodes will continue through December 25.
Below are the titles, premiere dates and descriptions for what viewers can expect when Legends of the Lost with Megan Fox lands at Travel Channel.
"Stonehenge: The Healing Stones" — Tuesday, December 11
The age old question about Stonehenge and why it was built will be the main topic of discussion and exploration for Fox in this episode.
See Also
The 10-year-old scarefest is shipping off to a watery hot spot of hauntings.
"America's Lost Civilization" — Tuesday, December 18
Fox will work to uncover the mystery revolving around North America's first settlers, can she prove that America was inhabited long before the last Ice Age?
"The Trojan War: Myth or Truth?" — Tuesday, December 25
Did the Trojan War really happen? Fox uses Homer's Iliad as a guide to researching whether or not the infamous war took place.
Legends of the Lost with Megan Fox, Series Premiere, Tuesday, December 4, 8/7c, Travel Channel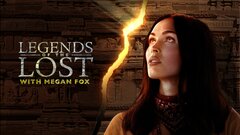 Powered by