'Monster Encounters': Casey Anderson Introduces Us to Some Fun Critters! (VIDEO)
Lions and tigers and bears — oh my? Well, not quite.
Wildlife expert Casey Anderson, known as the host of Nat Geo WILD's Expedition Wild and for his adventures with a giant grizzly bear named Brutus, is here to dispel myths and beliefs surrounding creatures and animals that people might find terrifying in his new Travel Channel series Monster Encounters.
See Also
The entertainment group behind 'The Walking Dead' goes from zombies to real-life killers.
What types of monsters will the show tackle, you ask? The series premiere features blood-sucking vampire bats and upcoming installments highlight marsupial lions and a mega-snake. Yikes, right? Luckily for us, Anderson brought some slightly friendlier pals when he visited the TV Insider offices.
Watch below as Damian Holbrook and Emily Aslanian meet Burrito the North American porcupine, Rosy the rose hair tarantula, and Athena the three-banded armadillo. Anderson's mission is simple: "We're finding the monsters and really getting to know them to see what the truth is."
Even the scariest critters can be quite helpful to humanity and worth protecting, after all.
Check out the full video below.
Monster Encounters, Tuesdays, 10/9c, Travel Channel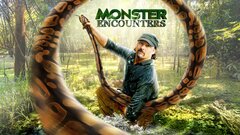 Powered by