'X-Files': Lauren Ambrose's Agent Einstein Is 'Scully on Steroids'
The penultimate X-Files episode, "Babylon," is putting its own spin on modern-day terrorism: when an art gallery is targeted by bombers, Mulder (David Duchovny) and Scully (Gillian Anderson) are recruited by a pair of younger agents, Miller (Robbie Amell) and Einstein (Lauren Ambrose).
"I think it's timely; it's a little ripped-from-the-headlines," says creator Chris Carter, who wrote and directed the episode. "It introduces two new characters, Einstein and Miller, who look very much like a young Scully and Mulder. You'll see a pairing of Scully with Miller, and Mulder with Einstein, which creates an interesting dynamic; Einstein is Scully on steroids, and Miller is old-school Mulder—he wants to believe."
Amell knew that people thought he might be playing Mulder's son, so he asked Carter, "Am I related to anybody?" But, Carter's response was, "No, you're a new young agent coming in." Amell then got some backstory on his character, and "tried to not screw it up," said the actor.
RELATED: How to Catch Up on 9 X-Files Seasons in 4 Days
Mulder and Scully will both take their own extreme, individual steps to solve the case. "We go places in this episode we've never even gone close to going before," Carter teases. "I think you'll see [Mulder] in a whole new way. I think you'll see [Scully] affected by [the death of her mother]; something that leads her into this case."
To get more intel on what goes down, we spoke with actress Lauren Ambrose—who will also appear in the finale,"My Struggle II"—about the role of FBI Agent Einstein.
There are similarities between Einstein and Scully—what is their first meeting like?
There was a weird moment when we both realized we're doctors. But other than that, we were all business, trying to figure out the case together.
What kind of a case are the teams investigating?
The case is a terrorism case with supernatural elements. We come along to help them.
How does Einstein get along with Miller?
We found the relationship on the fly, as we were shooting; of course in television, that's how things go—you have a very quick schedule. But I think Chris had a really good sense of what their relationship was: that they've been working together for years. I think he's a little more of a believer, and I'm a lot more of a skeptic, to the point of being really brash and rude to him. [Laughs] That was one thing Chris was always encouraging me to go further with—being adamant about my beliefs or lack of them.
RELATED: Why The X-Files Episodes Are Airing Out of Order
What did it mean for you to be a part of the revival?
I'll tell you, if you get yourself on an episode of The X-Files, nerds you haven't talked to in years start coming out of the woodwork and asking questions. It's major. [Laughs] I was really excited to check it out. It wasn't really on my radar when it was originally on; I sort of missed it. But it was still really fun to work on this hugely significant cultural touchstone for a whole generation. People have fallen in love watching the episodes each Sunday. People have told me so many stories about how meaningful it is in their lives. It was amazing to be on set and see all the props and see all the set pieces and see all the pencils in the ceiling. It was fantastic. I definitely took some selfies of myself with the nameplates on the door.
What did you really want to bring to the series?
I wanted to help realize Chris Carter's vision in writing the character. He liked what I was doing, and he encouraged me to be forceful, to the point where I was worried about her being quite shrill. I followed his lead, and I felt like I was in very good hands because he's very specific, very much in control. It's so nice to work with somebody who really knows what he wants and really has a vision. What I actually love about being an actor is the collaboration, and getting to help make somebody's vision real. Hopefully, I did that with this character.
RELATED: Chris Carter Shares the Reason The X-Files Really Came Back
What was your favorite part of the X-Files experience?
I guess my favorite part was to be welcomed so nicely into this world. These guys created this amazing thing that has affected so many people, and that people are so passionate about. They were very welcoming to outsiders. It was really humbling to work on [it], and I really admire Chris, the actors, all those guys who were there through the seasons, and what they made over the years. It's something really creative and special and hopeful. I went to the premiere, and that was the first time I really watched it, and I found it very moving. I feel so honored to be a part of it.
The X-Files airs Mondays at 8/7c on Fox.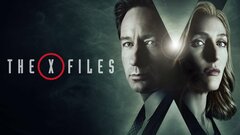 Powered by