'The Conners' Take on the Costume Debate & More Halloween Episode Moments
Fans of the original Roseanne know that the show never shied away from hot-button topics and The Conners followed suit in its Halloween episode, "There Won't Be Blood."
The powers that be had promised a Halloween episode when the series was revived, as its loyal following had grown attached to the original's wild and memorable installments for the holiday. But things were foiled when Roseanne was canceled after to star Roseanne Barr's racist tweet towards Valerie Jarrett.
On October 30, fans were offered an All Hallow's Eve episode sans Barr, featuring the spinoff's stars  John Goodman, Laurie Metcalf, Sara Gilbert, Lecy Goranson, and Michael Fishman. Below, we're breaking down the episode's biggest moments, including a debate over politically correct costumes, and the introduction of a new character.
Mark's 'Inappropriate' Costumes
One of the episode's central plots was that Mark (Ames McNamara) has a hard time finding an acceptable costume after his Fortnite-inspired ensemble is banned from the school carnival. When he decides to dress as famed artist Frida Kahlo, Mark feels as though he's made the right choice. But when he and Darlene (Gilbert) arrive at the party's entrance, he's turned away as he's dressed as a person who is not the same nationality as him (Kahlo was Mexican).
Darlene tries explaining that her son is simply paying tribute to an artist he loves, but it doesn't help. The moment calls into question the debate around politically correct costumes — is it always inappropriate to dress as people or nationalities that depart from your own?
Aunt Jackie's New 'Friend'
The Conners throw a big Halloween party and Aunt Jackie (Metcalf) takes it as an opportunity for introductions to a new special friend. Guest star Matthew Broderick plays Peter, a man with a masters degree in medieval culture — which serves as a snooze-fest to Dan (Goodman). It's clear that Jackie's smitten, though, so will Peter be making any more appearances? We shall see!
'Darklene'
During her job search, Darlene pursues a gig at a local restaurant where waitresses are expected to be rude to customers. After nailing her initial interview, the employer asks Darlene to try insulting him as practice. She takes the opportunity in stride but her words come out a little too harsh for the man's liking. When she returns home, Darlene reveals she was "overqualified" for the job.
Harris Is a Hazard on the Road
Darlene's daughter Harris (Emma Kenney) passes her driving test at the start of the episode, which spurs her to endlessly ask to use her late Grandma Roseanne's car. Ultimately, Dan caves and offers to let her drive on the condition that he'll be riding along until he feels like she's safe to do it on her own.
The Conners, Tuesdays, 8/7c, ABC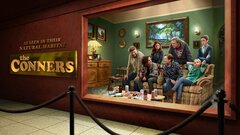 Powered by