Did 'Outlander' Season 4 Really Film in North Carolina?
Outlander is moving across the pond for its upcoming fourth season.
The new episodes, which follow the events of Diana Gabaldon's fourth Outlander novel (Drums of Autumn), take fans to a new country — colonial North Carolina.
You'd expect the Starz series to move shooting locations but ironically, that's not the case.
See Also
Author Diana Gabaldon hinted at the possibility.
Apparently the highlands of Scotland look very similar to the dense forests of the American state, so everyone stayed put in the original filming location.
"We certainly debated moving [production] to North Carolina," executive producer Maril Davis told Vanity Fair. "But at the end of the day we realized we love our crew too much to leave Scotland."
She added, "You're never going to get that heat and humidity of North Carolina in the summer in Scotland. So we just kind of decided from the get-go not to talk about the weather."
Outlander has famously shot its previous seasons in some of Scotland's hot historic sites like the streets of Edinburgh, Midhope Castle, Doune Castle, Blackness Castle, Glencoe, and Drummond Castle Gardens, just to name a few.
In Season 2, the cast and crew traveled to Prague to film their scenes in Paris — where Jamie (Sam Heughan) and Claire (Caitriona Balfe) move to try and prevent the Jacobite rebellion. And in Season 3, the latter half of episodes were shot in South Africa, which stood in for Jamaica.
So it wouldn't be so far-fetched to move production to America, but sorry to disappoint Sassanechs, that didn't happen.
See Also
Season 4 premieres on November 4.
When Claire and Jamie begin to settle into their new American lives, they face new challenging storylines including ones dealing with slavery and the treatment of the Cherokee. Davis told the magazine that the indigenous Cherokee characters are played by First Nation performers from Canada.
And that some of the show's producers flew to North Carolina to meet with people from the Cherokee tribe.
Outlander, Season 4 Premiere, Sunday, November 4, 8/7c, Starz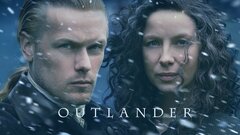 Powered by