John Wesley Shipp Gets in on the Arrowverse Crossover Action (PHOTO)
John Wesley Shipp is returning to the Arrowverse for December's crossover event featuring The Flash, Supergirl, and Arrow.
The actor, who has appeared as Henry Allen, Jay Garrick and even The Flash since The CW show's 2014 premiere, will suit up once again, according to Flash star Grant Gustin. This week, the actor broke the news by sharing a photo of himself alongside Shipp and fellow Arrowverse stars Melissa Benoist and Stephen Amell.
"Not that this Arrow costume isn't incredibly comfortable," Gustin captioned the photo on Instagram, "but I'm pretty jealous that @stephenamell is wearing my Flash suit in a picture with @johnwesleyshippjr wearing his OG Flash suit. WHAT'S GOING ON!?"
Wesley played the iconic titular character of the '90s TV show The Flash, and the suit he dons in the photo above is straight from that era, as Gustin so conveniently points out. So why is he wearing the suit? Fans will have to wait and find out during the crossover set to begin Sunday, December 9 on The CW.
One thing's for sure, there will be plenty of suit swapping going on as Amell and Gustin wear each other's suits in the photo above as well as in the crossover's poster, and Tyler Hoechlin's black Superman suit is still raising questions. Thankfully answers aren't too far away.
Arrow Crossover, Begins Sunday, December 9, 8/7c, The CW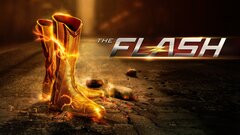 Powered by