'The Romanoffs': Diane Lane, Corey Stoll, Paul Reiser & More Give Hints for Their Episodes
Matt Wiener's anthology series The Romanoffs has many wondering what it's even about, beyond the common thread of the Russian royal family. Luckily, TV Insider got the stars to give us a few hints when we caught up with them on the red carpet for Thursday's premiere event in New York City.
From the funny to the dramatic to the straight-up absurd, The Romanoffs is a series that anyone can tune into at anytime without having seen any previous episodes. After premiering the first two installments Friday, October 12, Amazon will release subsequent episodes weekly.
See Also
'[The series] is different from what I expected,' says the actor.
Though the cast has been sworn to secrecy about some of the more revealing details, that didn't stop Corey Stoll, Paul Reiser, Diane Lane, Kerry Bishé, Cara Buono, and Jack Huston from giving us a few tidbits.
We asked the stars for a few words to describe their specific episodes and got a range of answers. Stoll, who appears in "The Royal We," called his episode "funny, dark, and unpredictable," while Lane opted to provide two words and a question about her episode "Bright and High Circle." "Awkward, frightening, and what would you do?" she offered, while Stranger Things' Cara Buono referred to the episode as "funny, topical, and entertaining."
And they couldn't sing Amazon's praises enough. "They're great… and really give everybody a lot of freedom," said Paul Reiser, who stars in "House of Special Purpose." Huston echoed this when he added, "If it weren't for someone like Amazon willing to back Matt and Matt's brilliant brain [we wouldn't be here] and I'm so glad because in a sense we're getting eight independent movies."
The large ensemble were happy to divulge their Romanov knowledge, as well. "My wife is actually a descendant of the Romanoffs," revealed Stoll. "It wasn't until I was cast that I actually sat down and read some books and did some research, but it's an endlessly fascinating saga."
Huston chimed in, "I was speaking to somebody who was like 'Oh, I have a friend who's a descendant of the Romanoffs' and I was like, 'Oh my god, it really is happening everywhere. It's art imitating life."
See Also
And her thoughts on sharing the screen with Corey Stoll and Noah Wyle.
For Bishé, a lack of knowledge about the family was somewhat helpful, as she explained, "I didn't know anything about the Romanoffs going in and really I think that was a benefit for my character who is sort of a skeptic throughout the episode."
Buono, Bishé, and Lane all commended creator Matt Weiner for his vision — whether it was the story itself, the artistic choices or the format. "I just love the writing and it made me want to know the storylines of the other scripts to see how that Romanovs thread is weaved throughout them," said Buono, who also worked with Weiner on Mad Men.
"I didn't want to go too far down the rabbit hole of precision," Lane said about Romanov research, "Because I knew I was in service to Matt's vision."
"I know Matt really wanted it to feel like you didn't have the pressure to watch every episode," Bishé shared. "With these you don't have to watch all the other episodes, you only have to watch mine," she joked. "They're each satisfying on their own."
And the stars did share a few other revealing details: Lane will play a college teacher based in California – a stark contrast from some of the show's overseas locations. As for Huston's episode, "House of Special Purpose," he's calling it "kind of a kooky horror comedy. It's like an exaggerated version of the worst set you could ever be on," he said.
Either way, there's plenty to look forward to in this anthology series, and in Buono's words "It will be an interesting puzzle when it's all done."
The Romanoffs, Streaming Now, Amazon Prime Video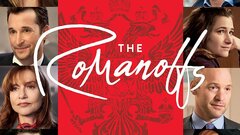 Powered by