'The Romanoffs' Star Aaron Eckhart on What Attracted Him to the 'Unconventional' Series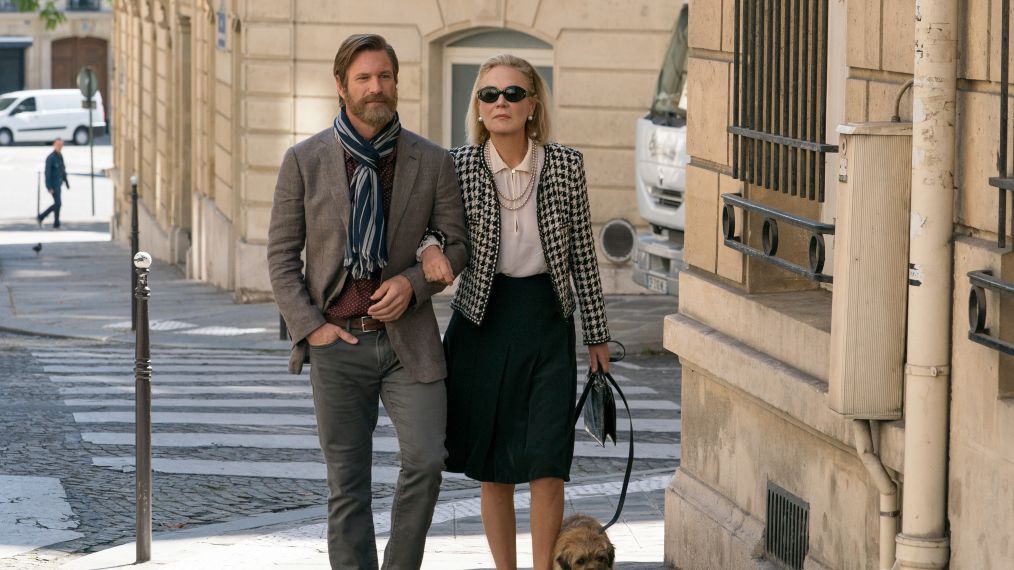 Amazon Prime Video's new project, The Romanoffs, from Mad Men creator Matthew Weiner, is unconventional to say the least.
The limited series includes eight episodes with eight completely different stories. But each episode includes at least one character who believes him or herself is a descendant of the Russian royal family. So don't expect an intertwined narrative à la Crash. What you can expect is an expansive cast of Hollywood's top actors including Aaron Eckhart, Diane Lane, John Slattery, and Amanda Peet.
See Also
Matthew Weiner's starry anthology series is a hit-and-miss collection that feels like a grand but ineffectual folly.
Eckhart shows up in the first episode, "The Violet Hour," in which audiences are transported to modern day Paris, where a wealthy older (and quite racist) woman, Anushka (Marthe Keller), lives in an enormous, magnificent apartment. The Dark Knight actor plays Anushka's American nephew Greg, who both loves her and wants to inherit her fortune.
Anushka's health is failing and Greg hires a caregiver, who happens to be Muslim (Ines Melab), and the friction quickly escalates. TV Insider spoke with Eckhart ahead of the premiere about what attracted him to the role and what is was like working with a TV powerhouse like Weiner.
How would you describe this series? It's not exactly what's advertised.
Aaron Eckhart: It's different from what I expected in that it's unconventional and all these stories that are interconnected but [at the same time] not connected at all. They're all shot around the world with different people on different timelines, and [the Romanoff family], really isn't even mentioned.
Matthew obviously has these beautiful stories in his head. I read the script on the side of a road near a lake in Montana in the rain — out in the middle of nature. I thought it was bold and interesting and I said, 'Wow, I want to be a part of that.'
Do you think Greg is just after his aunt's money, or is there more to him?
I think that he's weak in the sense that he is waiting for something to come and wanting something without working for it. I don't think he's materialistic but he likes a certain lifestyle. He doesn't seem to be a person who exerts himself. I think you have such tough women in this episode, my character is the one who is more laid-back.
What do you think is a theme in the episode that people will relate to?
First of all, love. Love is blind and you don't know when it's coming, how it's going to hit you, or how you're going to react. I also think individualism and personal liberties — emancipating yourself from money, social pressure, family pressure — being your own person. Wouldn't it be better to discover who you are as a person and what your purpose is in life, rather than waiting for some financial ease?
See Also
The series comes from the producer behind 'Mad Men.'
How do you choose your next project, your next character?
I'm 20 years into this, if not more, and it's changed. Before I would say 'Where is this [role] going to get me?' Now I just want to have fun and work with good people. What attracted me to this part was that I was in Paris.
I lived in France earlier in my life, and speak French. Obviously, the writing was great and the players involved. I think every actor comes down to the writing. Every actor fantasizes about saying the words perfectly or as the writer envisioned and Matthew has the whole thing in his head and is very particular about saying the words correctly.
I also felt like each story was a love letter to the city it was shot in.
Oh, definitely. Everyday we talked about where we were shooting, which I loved because I was thinking the same thing myself. I mean my trailer was on the Champs Elysees.
The Romanoffs, Episodes 1 & 2 Premiere, Friday, October 12, Amazon Prime Video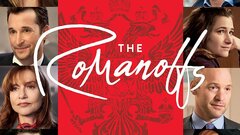 Powered by