Will Rollins & Carisi Finally Get Together in 'Law & Order: SVU' Season 20?
Law & Order: SVU detectives Dominick Carisi (Peter Scanavino) and Amanda Rollins (Kelli Giddish) have had a will-they, won't-they relationship for the last few seasons of the procedural drama.
Now that the long-running NBC series is in its twentieth season, it begs the question: Is this ever going to happen? We have a feeling it will, and there's a few things working in this ship's favor.
See Also
The dedicated lieutenant is struggling with the physical aspect of the job.
For one, the actors seem on board for it. Scanavino recently told Hollywood Life, "I feel like Rollins and Carisi are [a] very organic relationship.
"It kind of came from Kelly and I just being pretty good friends," he added. "When I first came to the show, Rollins hated my character's guts. And I was like, why are you so angry all the time? But now we get along really well. I think we got really good charisma onscreen, so we kind of developed this friendship."
The actor thinks there's something brewing between the two cops but won't even try to guess what the writers have in store for the current season. As fans know, a relationship might be difficult given Rollins' current situation — she's pregnant and the father is on-again, off-again boyfriend Dr. Al Pollack (George Newbern), who has a wandering eye.
Rollins already has a little girl from a previous relationship with Lt. Declan Murphy (Donal Logue), who's no longer in the picture. She's also dated a member of her squad in the past — in Season 15, it was confirmed that she and Detective Amaro (Danny Pino) were romantically involved.
Meanwhile, Carisi has dated in the past, but we only really know about these women through passing mentions in conversations — no real contender has been introduced on-camera.
See Also
Plus, the actress reveals her favorite guest star and what almost got her fired from the show.
SVU's former showrunner Warren Leight told The Hollywood Reporter back in 2016 that something could happen between these two, especially with the way Carisi loves being around her daughter. "The more you get to know Carisi, the more you like him and the more you trust him and I think that's what's happening to Rollins," he said.
Another thing about Carisi that intrigues Amanda is how much he values family. "Her family is not there for her in anyway and his always has been," Leight explained.
So far this season, Carisi has been very caught up in Rollins being pregnant. When she confirmed she was with child to her partner, the look on his face was telling — he's ready to step up and help. Let's hope it's in more than a friend way!
Law & Order: SVU, Thursdays, 10/8c, NBC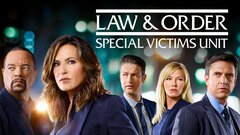 Powered by