'Law & Order: SVU' First Look: Meet the Guy Who's Been Breaking Rollins' Heart (PHOTO)
Now we know why we never saw Amanda's sometime romantic partner last season on Law & Order: SVU — he was busy playing romantic hitman Charlie on Scandal.
We're happy to see that George Newbern shows up in Season 20 as what Kelli Giddish, who plays special victims unit detective Amanda Rollins, calls "a troubling presence in Amanda's life.
"Last season, we saw Rollins at her her harshest, most judgmental self in a confrontation with a prostitute," Giddish explains. "We learned the reason behind [the confrontation] was her boyfriend, [Dr. Al Pollack], who'd been sneaking in quite a few visits with escorts on the side."
In the photo below, which features a scene from the season premiere, the actress reveals, "Rollins needs to speak her mind to Al and calls him for lunch. But it's a short meeting: She returns from the bathroom to catch him flirting with a waitress!"
Uh, we don't think Al knows who he's messing with here. If he shows up in her life again, he'd better be pretty contrite or be wearing handcuffs at the station!
Law & Order: SVU, Season 20 Premiere, Thursday, September 27, 9/8c, NBC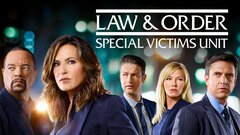 Powered by