From 'Titans' to 'Good Omens': Your NYCC 2018 TV Trailer Roundup (VIDEOS)
New York Comic-Con 2018 is one of pop culture's biggest weekends.
It's a time when TV networks, producers, and actors promote details and release dates for their upcoming shows. The four-day convention also left fans with some awesome trailers — like the one for the highly anticipated second season of Starz's American Gods and a first look at the rebooted animated series, She-Ra, as well as Amazon's upcoming series, Good Omens.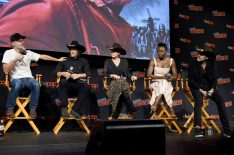 See Also
The AMC series made some major announcements during their Comic Con panel on Saturday.
Check out all the TV trailers below:
American Gods
Season 2, 2019, Starz
Deadly Class
Series Premiere, January 16, Syfy
Good Omens
Series Premiere, Amazon Prime Video, 2019
Season 4 Premiere, November 4, Starz
Harley Quinn
Series Premiere, 2019, DC UNIVERSE
Siren
Season 2 Premiere, January 24, Freeform
The Magicians
Season 4 Premiere, January 23, SYFY
Series Premiere, October 26, Netflix
Origin
Series Premiere, YouTube Premium
She-Ra and the Princesses of Power
Series Premiere, November 16, Netflix
Tell Me a Story
Series Premiere, October 31, CBS All Access
Season 2 Premiere, January 17, CBS All Access
Titans
Series Premiere, 2019, DC Universe
The Boys
Series Premiere, 2019, Amazon Prime Video
Stan Against Evil
Season 3 Premiere, October 31, IFC
Series Premiere, December 2, Syfy
Season 3 Premiere, October 19, Netflix