First Look: Jon Hamm as Archangel Gabriel in Amazon's 'Good Omens'
On Thursday, Amazon released the first-look image you see below of Jon Hamm as Archangel Gabriel in the streaming service's six-part adaptation of Neil Gaiman and Terry Pratchett's novel Good Omens, coming in 2019. The series is currently in production in the U.K., and after its Amazon debut, it will air in the U.K. on BBC Two at a later date.
"I read Good Omens almost twenty years ago," Hamm said in a release accompanying the photo. "I thought it was one of the funniest, coolest books I'd ever read. It was also, obviously, unfilmable. Two months ago Neil sent me the scripts, and I knew I had to be in it."
And in it, he is. Check out a full look at Hamm in character as a quite dapper Gabriel:
"Gabriel is everything that Aziraphale isn't," added Gaiman. "He's tall, good-looking, charismatic and impeccably dressed. We were fortunate that Jon Hamm was available, given that he is already all of these things without even having to act. We were even more fortunate that he's a fan of the books and a remarkable actor."
See Also
The unexpected exit of showrunners Bryan Fuller and Michael Green raise big questions about the Starz series' future.
The image of Hamm in character follows a previous first-look image of Michael Sheen and David Tennant as fussy angel and rare book dealer Aziraphale (the character referenced by Gaiman) and the fast-living demon Crowley, respectively, after the actors were cast earlier this year.
Good Omens, Amazon and BBC Two, 2019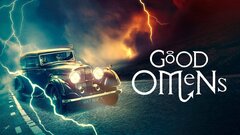 Powered by