The Winner Takes It All in the 'Better Call Saul' Season 4 Finale (RECAP)
Winner
Season 4 • Episode 10
[Warning: The below contains MAJOR spoilers for the Season 4 finale episode of Better Call Saul, "Winner"]
For fans of Breaking Bad's spinoff series Better Call Saul, it's been an interesting and winding road for the character they've known as Jimmy to evolve into Saul, but the wait is essentially over after the Season 4 finale.
In the episode, titled "Winner," we pick up with Mike (Jonathan Banks) dealing with a missing Werner (Rainer Bock), Jimmy (Bob Odenkirk) trying to change his reputation, and Gus (Giancarlo Esposito) is with Lalo (Tony Dalton). Of course, there are always surprises in store for this cast of characters and we're breaking down the episode's most pivotal moments that will usher in the fifth season.
During last week's episode, "Wiedersehen," Jimmy was denied from practicing law after his probation ended. Apparently, the reviewers found him to be insincere, due, in part, to his refusal to discuss his brother Chuck (Michael McKean) up. Despite their being estranged prior to Chuck's death, fans are shown of a much happier time between the brothers when Jimmy's first sworn in as a lawyer during this episode.
The pair duets to ABBA's "The Winner Takes It All" during a round of karaoke in the flashback scene. The song turns out to be symbolic for where Jimmy's path leads, as he and Kim (Rhea Seehorn) devise a plan to have Jimmy appear sympathetic in his appeal.
We're around the one-year anniversary of Chuck's passing, and we see Jimmy as he stands by his brother's grave, attends the unveiling of the Charles L. McGill Reading Room, and holds a scholarship selection meeting with Howard (Patrick Fabian). One girl who applied for the scholarship was Jimmy's choice but disregarded by the rest for her past criminal-like behavior. Finding kinship in this young person, Jimmy approaches her and reminds her that people like them will always be judged but that she will eventually win — and so will he.
Eventually, it comes time for Jimmy to plead his case to be allowed to practice again, and Jimmy decides to let Chuck speak for him through his brother's final letter. As they enter the hearing Kim promises, "Whatever happens in there, I'm with you." Ultimately, instead of reading the letter, Jimmy makes an impassioned statement about not being as good as Chuck but that he would try.
Jimmy thinks he has his audience hook, line and sinker when he exits into the hallway with Kim, and she couldn't be more shocked to find out that Jimmy's statement was essentially an act. One of the women from Jimmy's appeal comes out to meet them, revealing that it's good news for the hopeful lawyer but he'll have to fill out some paperwork. In this moment, Jimmy reveals he won't be practicing under his name — a detail Kim was unaware of. "Wait, Jimmy, what?" Kim asks surprised to which Jimmy pivots, shoots finger guns and says, "Saul Goodman."
This moment is the turning point that most fans have been waiting for since the show's premiere and Season 5 can't come soon enough. What will this mean for Jimmy and Kim moving forward? We can't imagine it will be good.
Also, in the final moments of last week's episode, it was revealed that Mike's charge Werner had escaped the workers base camp in an attempt to meet his wife for a few days. The potential security breach turns serious when Gus shows up. Mike promises to apprehend the builder, but Lalo is on his tail.
Things turn deadly when Lalo arrives at Travel Wire, where Werner collects funds sent by his wife in Germany, and kills the teller who won't share the information given to Mike. Eventually, the Salamanca catches up with Mike, but experience wins out… mostly.
Mike leads his stalker into a parking lot with a gate and loses him when he goes to exit the lot, jamming the ticket machine with some gum. Lalo is quick though because when Mike tracks Werner to a resort, he finds the builder on the phone with Lalo who is digging for information.
Next, Mike ushers the builder to his car, telling him that his wife who is trying to meet him is being followed and that he'll have to make her turn around by any means necessary. Caring enough for Werner to protect his wife, Mike has no choice when it comes time to make things official.
As the pair drive out into the desert, Werner pleads for his life but Mike can't take the risk. Resigned to his fate, Werner walks slowly into the night before Mike takes aim, shoots, and kills the builder.
And the security breach isn't the only issue Mike and Gus faced. The lab is still unfinished when Gus brings Gale (David Costabile) by to take a look. Then, there's Lalo who has proven to be both unpredictable and violent, as well as trouble for Mike and Gus. Based on the character's history, something big is sure to be in store when Season 5 rolls around, now if only that wasn't so far away…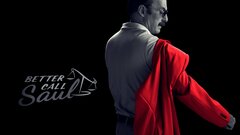 Powered by