A Big Introduction & More Key 'Better Call Saul' Moments from 'Coushatta'
Coushatta
Season 4 • Episode 8
[Warning: The below contains MAJOR spoilers for Season 4, Episode 8 of Better Call Saul, "Coushatta"]
As the finale for Better Call Saul's fourth season nears, the stakes continue to build. Characters are forced to make life-altering decisions with each passing episode and "Coushatta" is no different.
Named after a small town in Louisiana, the episode leads viewers there, but not in the way you might expect. We're taking a look at all of the crazy moments from Season 4 Episode 8, including the introduction of a new character, a menacing threat, and a surprising reaction to some less than ethical behavior.
Read on for all of the news and notes from the Better Call Saul episode "Coushatta." Beware of spoilers ahead.
Lifesaving Letters
Viewers last saw Jimmy's (Bob Odenkirk) pal Huell (Lavell Crawford) facing a lengthy prison stay for hitting an officer with some sandwiches. At the end of that episode, Kim (Rhea Seehorn) said she would help him — if they did it her way.
In "Coushatta," we pick up with Kim seeing Jimmy off as he heads into the Albuquerque bus station. During his mysterious travels, he recruits passengers to help write letters in Huell's defense by using different pens and paper (purchased by Kim in the previous episode). When Jimmy arrives at his destination — a Coushatta, Louisiana post office — he dumps the letters and turns back for New Mexico.
Ultimately, the plans snowball into a defense for Huell as the letters are written by "parishioners" of his hometown church, all including numbers to call back. When ADA Suzanne Ericsen (Julie Pearl) denies Kim's plea to make Huell's offense a misdemeanor, the letters come in and make Huell look like a saint.
The phone numbers in the letters belong to the cell phones Jimmy purchased, so as Ericsen calls, Jimmy and the film students (seen in prior seasons) impersonate Southerners looking to save Huell from trouble. And it appears that Odenkirk's impersonation — reminiscent of his time on Mr. Show — is enough to do the trick: The ADA ultimately decides to call the case off.
The storyline reminds viewers of the show's beginning as Jimmy pulled-off some small-time scams. Now, we're just on a larger scale, thanks to Kim's help.
A Relationship on the Mend
In recent episodes, fans have seen Jimmy and Kim's relationship begin to disintegrate — or that's at least how it appeared. So when Kim essentially pounces on Jimmy in the courthouse stairway after winning Huell's case, we are surprised but pleased to learn that Kim's ready to be in on Jimmy's dealings.
As Kim sits contemplating the situation about Jimmy's side business and how he lied, she pulls out the tequila cap she collected when they'd scammed a man in a bar in a past season. It's clear she wants to do the right thing, but Kim's own darkness wins out in the episode and she tells Jimmy outside a prospective office that she wants to "do it again" — win a case without using morals.
Will this end badly? We're not sure, but the story is definitely heading in an unexpected direction.
Mike's Duty
Mike (Jonathan Banks) has recently taken charge over the construction of Gus's (Giancarlo Esposito) lab beneath the laundromat, building tension between him and crew member Kai (Ben Bela Bohm). So when Mike treats the men to some R&R, he's ready for some trouble from Kai at the strip club. Interestingly enugh, his biggest problem comes from an unlikely source. While in a bar with some locals, Werner (Rainer Bock) speaks a little too loosely, showing off some drawings of the lab to unassuming patrons.
Ultimately, things get serious when Mike plainly reveals that if Werner wants to return home to his wife, he must keep his work a total secret. We have a feeling Mike's willingness to trust and forgive the builder could come back to bite him.
An Unwelcome Face
After being absent for some time, Nacho (Michael Mando) finally resurfaces. Working in the restaurant and collecting the dealers' income, Krazy-8/Domingo (Max Arginiega) sits at the front while Nacho takes the head honcho's seat in the back (Hector [Mark Margolis] is still hospitalized). When one of their crew comes in with less cash than they should, Nacho gets brutal by ripping out the man's earring.
He then later arrives at a house where two girls are lounging and doing drugs — could this be his home? The mystery deepens as he enters a room and approaches a safe containing IDs for him and his father with different names. Perhaps he visited the Hoover repair man? Nacho is going through the motions, running the Salamancas' business until a new face appears at the end — "Lalo" a name we haven't heard since Season 2 of Breaking Bad.
For those who need a little reminder, when Saul is kidnapped by Walter (Bryan Cranston) and Jesse (Aaron Paul) in Season 2, he believes it's Lalo who's responsible. His final words in the episode provide no comfort as he tells a disgruntled Nacho that he's there to take over the business.
With only two more episodes remaining in the season, viewers better buckle up for one crazy ride.
Better Call Saul, Mondays, 9/8c, AMC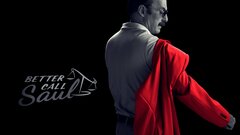 Powered by