Filmmaker Peter Sullivan on Bringing Syfy's 'Cucuy: The Boogeyman' to Life
There is no better way to get into the Halloween spirit than with a creature-feature like Cucuy: The Boogeyman, coming to Syfy as part of its 31 Days of Halloween programming event, which is celebrating its 10th anniversary this year.
The film is a take on the Latin-American legend of a boogeyman that takes misbehaving children in the middle of the night back to his cave to be eaten (the Cucuy is a pretty hot subject lately; aspects of this legend also feature in Stephen King's bestseller published earlier this year, The Outsider).
The film centers on the small town of Glimmer Peak and a local sheriff (Charmed's Brian Krause) investigating a string of child disappearances. Riverdale's Marisol Nichols plays a widowed mother Rebecca to daughters Sofia (Jearnest Corchado), who is on house arrest with her younger hearing-impaired sister Amelia (Bella Stine).
The project is helmed by prolific writer, director and producer Peter Sullivan. Having worked on several sci-fi and horror films such as Stan Lee's The Sandman from last year, he saw the Cucuy as a way to broaden the cultural and international reach for a unique narrative.
"We're taking horror to a new level," he said. "With Cucuy, it specifically targets children. I thought, 'I can't imagine anything more terrifying than the loss of a child.' It's more than your typical, 'Hey, let's go into the dark basement where there is a guy with a knife.' That interested me."
Helping create the right atmosphere, the crew shot in an abandoned neighborhood on the site of the former Lanterman Developmental Center in Pomona, Calif.
"It was incredibly versatile because it had everything from residences to educational buildings to the summer camp and all of these things in one place," he said.
"It was a tremendous opportunity there. Ultimately, I feel like it had a reputation, but it was also a rehabilitation center. It was a place people could go to get a second chance. To that extent, I also think it fit with the theme of the movie. It's about people who may feel like outsiders and want their own."
See Also
The series comes from the mind of 'Game of Thrones' writer George R.R. Martin.
A lot of thought also went into the aesthetic of the Cucuy itself. The team researched the mythology with Sullivan recalling sifting through countless stories, books and even podcasts. For him, there are certain traits that stand out.
"The glowing red eyes, the darkness," he said. "Whether it is under the bed or in the closet or down the hall. Also, the mouth because according to legend if you misbehave, he takes you, puts you in a sack and brings you back to his cave to eat you. The mouth had to really stand out.
"It's only partially human, so there are references to animal body parts. We had hooves. Things like that from these legends, we produced a prototype of what a Cucuy would look like.
"Then once we had that we thought if it's Latin American mythology, let's look at Latin American art and use that as an influence of facial structure. We have carvings on his skull to evoke the Latin American art."
A good gauge of how well they did was the fact that the kids on the set didn't want to be in the same room as the thing.
See Also
Get ready to spend a spooky day with the Winchesters on TNT this October 31.
If Cucuy does well, Sullivan isn't against doing a sequel, and he has ideas of where it could go. In the meantime, the filmmaker has also helmed other television movies of the Christmas variety that are coming soon to Lifetime.
First up is My Christmas Inn, a Sister, Sister reunion of sorts with Tia Mowry-Hardict, Tim Reid and Jackée Harry, airing on Lifetime Nov. 21 at 8/7c. Then it's Jingle Belle on Nov. 25 at 8/7c, with a star-studded cast including Tatyana Ali, Cornelius Smith Jr., Loretta Devine, Keshia Knight Pulliam, Tempestt Bledsoe and more.
See Also
Plus, casts members from 'Sister, Sister,' '7th Heaven,' 'The Cosby Show,' and more appear in some these special TV movies.
Sullivan likes the holiday- and genre-jumping because it keeps things fresh, preventing him from falling into a pattern. He believes now is a great time to be in the TV movie game.
"When I was first getting into the TV movie business as an intern and watched these things, they were very traditional. They weren't very cinematic," he said. "There were no chances taken. The angles were straightforward. We took by-the-numbers filmmaking. I think what you are seeing now in the television world is it's becoming a more interesting medium."
Cucuy: The Boogeyman, Saturday, Oct. 13, 7/6c, Syfy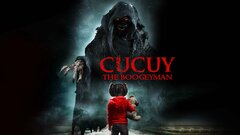 Powered by