WATCH: Stan Lee Stirs Up Nightmares for Syfy's 'The Sandman'
Mr. Sandman, forget bringing us a dream and just stay out of our heads entirely!
Marvel Comics icon Stan Lee has a lot going on these days with all of his TV superheroes, but that hasn't stopped the guy from dipping into the horror genre for a new flick that already has us checking under the bed. The Sandman, an original feature heading to Syfy next month, tells the tale of a young girl named Madison (Shae Smolik) who goes to live with her aunt Claire (Haylie Duff) following the mysterious death of her father.
Before you can say "Great Shades of Freddy Krueger!" Claire begins to realize that her new charge has the power to conjure up one hell of a boogeyman from her dreams called The Sandman, who may have actually offed not just Madison's daddy but a whole slew of other slaughtered folks across the country. And trust us, he is NOT the kind of character you want wandering around in your waking or sleeping life.
To make matters even creepier, Saw star Tobin Bell shows up (as the leader of a shady cabal of government types), as does original Nightmare on Elm Street vet Amanda Wyss and Texas Chainsaw Massacre 3D's Shaun Sipos.
Here's an exclusive trailer that proves this one is not your typical Syfy campfest.
Hybrid Films' Peter Sullivan wrote and directed the movie, which was co-EP'd by Lee, Gill Champion, Barry Barnholtz (Leprechaun) and Jeffrey Schenck (Finders Keepers, The Crooked Man).
The Sandman, premieres Saturday, Oct. 14, 9/8c on Syfy.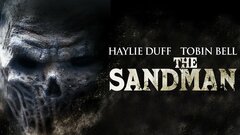 Powered by