Rosie O'Donnell & More Guest Co-Host 'The Talk' — Who Should Fill Julie Chen's Seat Full-Time? (POLL)
Just over a week after original co-host Julie Chen announced her departure from CBS's The Talk, the daytime show is filling her seat — at least, temporarily.
Guest hosting this week on the show are singer Carnie Wilson, actress/comedian Rosie O'Donnell, and Dancing with the Stars judge Carrie Ann Inaba. No official replacement for Chen has been announced but O'Donnell and Inaba's appearances are reportedly serving as auditions to replace the former Chen permanently.
this friday i will be guest hosting with the ladies of @TheTalkCBS – dont miss it !! ❤️♥️❤️ pic.twitter.com/TxfbydksqA

— ROSIE (@Rosie) September 26, 2018
O'Donnell has hosting experience: She was a former co-host of ABC's Talk competitor The View and previously hosted her own daytime talk show, The Rosie O'Donnell Show from 1996 to 2002. Meanwhile, Inaba has guest-hosted on The Talk before, making her another strong candidate.
It's no secret that O'Donnell is a ratings dream as she boosted The View's numbers during both of her stints on the daytime staple. But could O'Donnell be swayed to take on the full-time gig?
See Also
The show's Season 20 finale is next week.
She's previously stated in a YouTube video that she left The View for the last time due to stress. Yet, when a Twitter fan guessed that she wouldn't want to make the move from the East Coast to L.A., the TV personality had an interesting response.
perhaps i would

— ROSIE (@Rosie) September 26, 2018
There's certainly support for Rosie, but Inaba also received her own encouragement from resigned host Julie Chen who said in a video message, "In my opinion, you look awfully good sitting there, my Asian sister. I'm just saying!"
Chen, who recently began referring to herself as Julie Chen Moonves, departed the show following husband Leslie Moonves' exit from the network following a number of sexual misconduct allegations.
See Also
The show's Season 20 finale is next week.
With these two very capable replacement options, let us know who you'd want to see take Julie's seat on The Talk in the poll below.
The Talk, Weekdays, CBS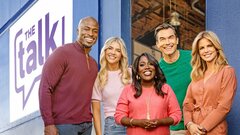 Powered by