Roush Review: 'Full Frontal With Samantha Bee' Is Worth Buzzing About
Man oh man, is Samantha Bee one funny woman.
Having said that, shifting into gender neutral, the only thing that really matters about Full Frontal With Samantha Bee is that after the first episode was over, we wanted more. More than once a week, for sure, but if this topical comedy show stays this savagely hilarious, we'll take what we can get.
Having sharpened her teeth as one of the brightest correspondents on The Daily Show, Bee emerges as a star in her own not-quite-late-night TBS showcase (it airs at 10:30/9:30c), showing no mercy on either side of the political aisle, regardless of sex—mocking "Hermione Clinton" with as much zeal as tweaking Bernie Sanders' "blustery old grandpa" persona—and adding zing to her sting with a merrily deft charm. "Oh no, Tinkerbell is dying!" she cried after playing a clip of Jeb Bush's infamous "Please clap" video. It takes a sure hand to find new ways to wring laughter out of something so ubiquitous.
MORE REVIEWS: Here's What Critic Matt Roush Loved (and Loathed)
Full Frontal breaks no ground in its format or presentation—it's basically Bee's weekly version of The Daily Show—but putting a woman center stage is still novel enough to merit attention. "Is it hard breaking into the boys' club?" a reporter barked during a mock press conference that opened the show. "What's it like to be a female woman?"
Yes, we get it. How ridiculous to make such distinctions. What counts is what sort of meal she makes out of the "banquet of all-you-can-eat crazy," as she described the current GOP field. And hers is a smorgasbord of biting satire.
I look forward to her next "Elected Paperweight of the Month" segment after watching Bee rant against a Kansas state senator who unsuccessfully proposed a dress code for women who testify in the capital: "Your state's got 99 problems, but a bitch ain't one."
Regaling her studio audience with a clip of a CNN interview during which Ted Cruz's wife, Heidi, clenches her teeth while being questioned about his polarizing personality, Bee quipped: "Now I dislike Ted Cruz as much as the next everyone, but that's no reason to be rude to Ted's loving wife and possible hostage."
Said so sweetly and smartly, how can you not buzz about this Bee?
Full Frontal airs Mondays, 10:30/9:30c, on TBS
---
Questions? Ask Critic Matt Roush!
TV critic (and occasional TV therapist) Matt Roush answers viewer questions and concerns in his Ask Matt column each week. Wondering about plots, characters and twists on your fave shows? Submit your query to Matt via the form below: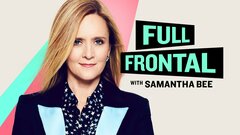 Powered by