On 'Full Frontal', Samantha Bee Is 'Happy to Take Up the Mantle' for Women on Late Night TV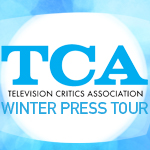 With males dominating the late night landscape, Samantha Bee understands why her gender has become a talking point.
"It makes complete sense to me it would be a part of the conversation," Bee said during the Television Critics Association panel for her new late night series, Full Frontal with Samantha Bee. "There just has not been a wealth of women in late night…we're puzzled by it as well, but we're happy to take up the mantle."
"[But] it's not a show all about women stuff," Full Frontal executive producer Jo Miller added.
As the show is leading up to its Feb. 8 premiere, they are already hard at work, banking field pieces.
"I have a story about the rise of Islamophobia, in election cycles in particular," Bee said. Additionally, they filmed in Jordan, and "we took the cultural orientation class—or at least a part of it" and visited a tent city. "It was an amazing experience."
RELATED: Will Viewers Embrace a Female Host? (And Other Big TV Questions for 2016)
The weekly aspect of the show will also lead to some key differences from other late night shows. "A lot of things we [talk about] won't have news clips," Miller said. "And we're not having guests, so we have this lovely third act [where] we can put anything we want…we want to find comedy in the absurd injustice."
As Bee prepares to take center stage for her show, she acknowledged her experience at The Daily Show—where she worked for 12 years—was vital. "I've learned a lot from [former Daily Show host] Jon [Stewart]," Bee said. "I learned a lot about what goes into a healthy and robust work ethic."
On The Daily Show, "there were definitely times when I was afraid to delve more deeply into a topic," Bee acknowledged. "I would have gone more deeply into a subject than others wanted to. And we'll have the opportunity to do that with Full Frontal."
Full Frontal with Samantha Bee premieres Monday, Feb. 8, at 10:30/9:30c on TBS.