What's Next for Shaun & Lea on 'The Good Doctor'?
[Warning: The below contains light spoilers for the Season 2 premiere of The Good Doctor.]
The second season of The Good Doctor premiered with the same emotional medicine fans fell in love with last year. The medical drama isn't afraid to dive head-first into hospital politics and new procedures, all while putting the care back into healthcare.
The show's central figure, Dr. Shaun Murphy (Freddie Highmore), a savant surgeon on the autism spectrum, forces his fellow residents to change they way they approach medicine, patients, and life.
In the premiere episode, dynamics at San Jose St. Bonaventure Hospital are changing. Shaun's mentor, Dr. Aaron Glassman (Richard Schiff) — who is fighting brain cancer — was replaced as head of the hospital with the former chief of surgery, Dr. Marcus Andrews (Hill Harper).
Other cast shakeups include the departure of Dr. Jared Kalu (Chuku Modu), who left to work at a hospital in Denver, and the introduction of Dr. Marina Blaize (Glassman's oncologist), played by former House star Lisa Edelstein.
Another familiar face that surprised viewers was that of Shaun's neighbor Lea (Paige Spara), aka his first kiss. Last season, she was moving back to her hometown to pursue her dream of refurbishing classic cars, but it appears she changed her mind.
"Aren't you going to say hello" she asked Shaun upon her return.
"Hello," he says.
These two characters have always had chemistry, so we're excited to see where their relationship will lead but it may take some time, Highmore teased recently to TV Insider.
"[Their reunion] might not be the happy reunion people are expecting," he said. "Lots happened during their time apart, and it will take Shaun a while to process that she seems to want to stick around."
By the looks of all the bags she had, we can confidently speculate Paige will be around for a while.
The Good Doctor, Mondays, 10/9c, ABC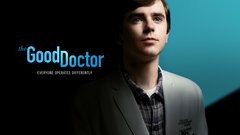 Powered by