'Supergirl' Newbie Sam Witwer on How Agent Liberty Is 'Protecting Humanity' in Season 4
The parade of guest stars with some sort of Super-cred continues as Kara Danvers (Melissa Benoist) soars into her fourth season of Supergirl.
Having already recruited Dean Cain and Teri Hatcher (Lois & Clark: The New Adventures of Superman), Helen Slater (1984's Supergirl film) and Erica Durance (Smallville), the series has now cast Sam Witwer — who played Smallville's Davis Bloome, the human form of megavillain Doomsday — as Ben Lockwood, aka Agent Liberty.
See Also
Xander Berkeley will appear on Season 4 of The CW show as someone's father...
"It's funny," Witwer notes of his past ties to the DC Comics world. "I know [people on the show] are aware of it, but not one word has been spoken about that."
This time around on Supergirl, there's no Kryptonian monster: Witwer's anti-alien resistance leader poses a very human threat. As head of the Children of Liberty, an organization dedicated to the right of humans to have control over their own destiny and their own planet, Lockwood is hell-bent on calling out Kara and her otherworldly allies for wreaking havoc in the name of saving the day.
See Also
It's a shame trolls ran Rose off of social media, because this look is sure to win her some new fans.
"If a bunch of aliens came to Earth and buildings were being toppled during big fights and stuff like that, I might do exactly what this guy is doing," the actor confesses. "Wouldn't someone say, 'Hey, enough is enough! We've got to stand up for ourselves as humans'?"
Of course, Lockwood, a former professor, isn't armed solely with what Witwer dubs "a persuasive presence." He also notches up his hate campaign with his side hustle as masked vigilante Agent Liberty. "These opinions he's expressing — not all of them are popular. [So] there's some anonymity [needed]," Witwer says. "He's taking actions that he sees as protecting humanity." Actions that likely won't fly with our girl.
Supergirl, Season 4 Premiere, Sunday 8/7c, The CW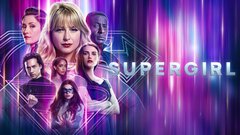 Powered by