Everything We Know About the 'Downton Abbey' Movie
Ready, set, tea.
Production on the Downton Abbey movie is in full swing which has fans of the Crawley family eagerly awaiting their return every since the series ended in 2016 after six seasons.
The period drama followed the lives of a wealthy English family members and people who served them. It was one of Masterpiece's biggest hits, going on to win three Golden Globes and 15 Emmys.
In July, the movie was confirmed after much speculation. Here's everything we know about the movie so far:
When Will It Be Released?
The movie will hit theaters on North America on Friday, September 20, 2019, while international fans will get to see the movie a week earlier on September 13, 2019.
Who's in the Cast?
The majority of the original cast from the TV series has signed on, including: Michelle Dockery, Hugh Bonneville, Maggie Smith, and Joanne Froggatt. Elizabeth McGovern, Jim Carter, and Allen Leech are also on board, as is Matthew Goode.
Imelda Staunton, Stephen Campbell Moore, Simon Jones, David Haig, and Tuppence Middleton are some additions. Variety reported Kate Phillips and Geraldine James will also appear.
Lily James confirmed she won't be returning for the movie, as her character moved to America. But the question on every fan's mind: Will Dan Stevens make a cameo? Probably not, as he died in a car accident at the end of the third season, but maybe in a flashback or dream?
Where Is It Being Filmed?
The cast and crew are currently in production at Ealing Studios and will also be filming at the historic English countryside estate, Highclere Castle.
View this post on Instagram
What Is the Movie About?
Series creator Julian Fellowes is writing the script and will produce alongside original Gareth Neame and Liz Trubridge, both from the original show. Michael Engler will direct.
The Abbey finale was set on New Year's Eve 1926, so will the movie pick up in the 20s or skip ahead in time?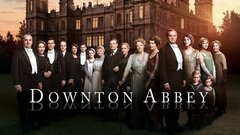 Powered by