The 'Downton Abbey' Movie Will Be Missing One Character
The Downton Abbey movie is officially a go, and almost all of the characters from the TV series are returning: except one.
Lily James — who played Lady Rose MacClare on the PBS drama — revealed she won't be featured.
"I'm sadly not [in it], but I'm so excited for it — I'm going to be front row," she told People. "I spoke to Laura [Carmichael] not long ago and was texting Michelle [Dockery] about Love Island and it's going to be really exciting. And the whole gang is coming back."
And the reason why?
"My character Rose moved off to New York, so it would be farfetched to bring her back," she explained. "I would have loved to have come back for a scene, but for a movie it can't be like a Christmas special and it needs to be a focused storyline… There was no space for Rose."
See Also
Production will begin this summer.
Meanwhile, the main cast is returning, including the likes of Maggie Smith (Violet Crawley, Dowager Countess of Grantham), Michelle Dockery (Lady Mary Crawley), and Hugh Bonneville (Robert Crawley, Earl of Grantham), plus series creator Julian Fellowes will produce the movie and write the screenplay.
The movie will begin production this summer.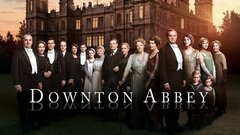 Powered by