Cuba Gooding Jr. Says O.J. Simpson Is His Hardest Role Ever (Just Don't Call It a Comeback)
Warning: Ask Cuba Gooding Jr. about making a comeback in FX's The People v. O.J. Simpson: American Crime Story, and he will start singing LL Cool J's "Mama Said Knock You Out." ("'Don't call it a comeback! I've been here for years!' Remember that song?" he asks.)
Whether Gooding likes it or not, comeback is a word he will be hearing a lot in the weeks ahead, thanks to his turn as fallen football icon Simpson. He plays opposite John Travolta (as defense lawyer Robert Shapiro) and Sarah Paulson (as L.A. prosecutor Marcia Clark) in the 10-episode drama, produced by Ryan Murphy (American Horror Story). Since word is truly that good, the 48-year-old actor may be returning to the heights of his Academy Award–winning performance as brash wide receiver Rod Tidwell in 1996's Jerry Maguire. In the meantime, however, he's politely ceased rapping in order to answer a few questions.
Do you remember where you were in 1994 when you heard that O.J. Simpson had been accused of killing his ex-wife, Nicole, and her friend Ronald Goldman?
No, but I recall watching the basketball playoffs when the image of the Bronco chase flashed on the screen. And someone said O.J. was in there with a gun to his head. I remember the horror I felt, thinking I was going to see a celebrity blowing his brains out on TV.
Did conjuring those feelings help you play him?
Truthfully, this is the hardest role I've ever had, psychologically. To be an actor, you have to layer on someone else's emotions. I had to walk around as O.J. for six months. I found myself getting upset very easily. It took me a month to recognize my own feelings again and reconnect with reality.
What was the hardest moment for you to film?
The funeral scene when O.J. kisses Nicole's corpse. And there were many times on—and off—camera when I was just bombarded with all this horrific evidence about the crime. You can't easily let that stuff go.
What was working with John Travolta like?
He might be my favorite costar of all time. There were days filming in the courtroom when we all thought we'd go insane, so John and I would break into song and dance. Actors like him have so many great stories. He talked about the time Michael Jackson wrote a song for him and he said, "Great!" Then three months later, when he said, "I'm ready to record it," Michael said, "I'm sorry, I kept it for myself." The song was "Wanna Be Startin' Somethin'"! I was like, "What?"
Why do you think you've had luck playing football players?
I played varsity in high school and thought that was the career I wanted. Then I said to my girlfriend, "I'm not going to play pro football, but I could be a pro football player in a movie." I swear my career grew out of that statement. I also think I understand how they hold themselves, that supreme confidence. Sometimes I do believe that a lot of their violent behavior—like O.J. in Nicole's 911 calls—could be a result of concussions on the field.
Which of your early TV roles are you most asked about?
None of them! It's funny, I started my career on television with Hill Street Blues and MacGyver in the 1980s, yet people keep asking me about going from film to TV.
You played the titular surgeon in the TV movie Gifted Hands: The Ben Carson Story. What did you think when you learned he was running for president?
I'd hung out with him and always remembered how confident he was. He had the arrogance of someone who excels at what they do—but at a whole other level.
Would you play him again?
Yeah! [Laughs] In truth, it depends. I would have never said, "We should make the O.J. Simpson story starring me." I just told my agents to pair me with real filmmakers. So when they said, "Ryan Murphy wants to talk to you," I replied, "I'll do whatever he wants." And if Ryan said tomorrow, "We're doing the Ben Carson story next," I'd be like, "Oh, I got all the research down."
Before O.J., what kind of TV roles were you offered?
Anything you could think of. CSI. Ugly Betty. I was just offered a stint on a new ballroom-dancing show. [Laughs]
So, in all seriousness, would you call this your comeback?
I had this agent, Coralie Jr., who discovered me in high school. She told me to get head shots and lie on my résumé because nobody checks it. She told me to have fun at a wrap party but never be the last one to leave. And she told me, "You will have ups and downs in your career, so learn to live in the between time." And I did. I've written screenplays. I was on Broadway [in The Trip to Bountiful]. The way I see it, I was never away. I was here, evolving and growing.
If you win an Emmy, will you dance on stage like at the 1997 Oscars?
[Laughs] I actually just sprained my ankle. Every once in a while, I do get stupid enough and try to do a flip. Sometimes I land and sometimes I don't. Like life. So, yeah!
https://www.youtube.com/watch?v=J2-vm-L_dk4
The People V. O.J. Simpson: American Crime Story premieres Tuesday, Feb. 2, 10/9c, FX
Powered by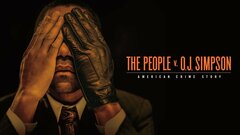 Powered by