'Blue Bloods' EP on What's Next for Danny, Jamie & the Rest of the Reagans in Season 9
Change doesn't come easily to the Reagan clan, steeped as it is in tradition, a family-above-all mentality and true-blue loyalty to the NYPD. But in the drama Blue Bloods' ninth season, not even someone as formidable as Police Commissioner Frank Reagan (Tom Selleck) can stop it.
The first alteration: a new — albeit familiar — face at Sunday dinner. Eddie Janko (Vanessa Ray), the new fiancée and patrol partner of younger son Jamie (Will Estes), takes the seat once occupied by Linda, the late wife of his brother Danny (Donnie Wahlberg).
The pair will have to handle the ups and downs of a committed relationship and, as a wedding looms (possibly this season!), a visit from Eddie's mom. That saucy lady (still uncast at press time) won't have much in common with the straight-shooting Brooklyn family.
On the job, one is promoted to sergeant — and both are transferred. "Their precinct in a rougher neighborhood has them trying to navigate the current climate in which cops feel under siege," says executive producer Kevin Wade.
A title change is also in the works for ADA Erin Reagan (Bridget Moynahan) as she moves up the ranks to become regional bureau chief. "She now sits at a desk where the buck stops," says Wade, adding that new Manhattan DA Samar "Sam" Chatwal (The Daily Show alum Aasif Mandvi) is "a terrific boss/antagonist/mentor all rolled into one." Expect some heated conflict with her dad over police cases.
For Danny, who seemed to be leveling off after his home was torched and his spouse killed in a helicopter crash, the departure of firstborn Jack (Tony Terraciano) for college sets him back on his heels. Then the DEA at last corners that elusive arsonist, a vicious killer named Louis Delgado (Lou Diamond Phillips).
"We meet him in the premiere and then he gets away," Wade reveals. But the "Panther" isn't gone for good. Danny won't stop until he gets his man and makes him pay. How the impetuous detective does that could lead to closure — or something regrettable.
Blue Bloods, Season 9 Premiere, Friday, September 28, 10/9c, CBS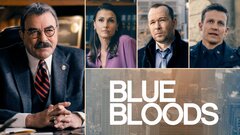 Powered by