Mike's Meeting Meltdown & 3 More Crucial Moments From the 'Better Call Saul' Episode 'Talk'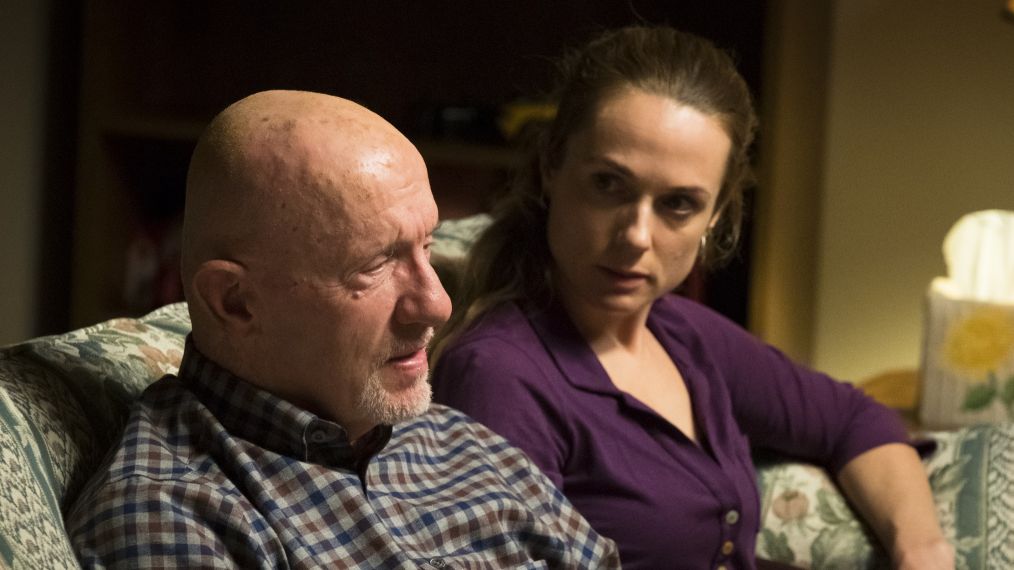 [Warning: The below contains MAJOR spoilers for the Better Call Saul episode, "Talk."]
We're four weeks into the fourth season of AMC's Better Call Saul, and the pressure is certainly building. Between Jimmy's (Bob Odenkirk) bottled-up emotions and Nacho's (Michael Mando) dashed dreams of escaping "the business," it's clear big things are on the horizon.
Unlike past seasons, the series has begun to morph into something fans were familiar with during Breaking Bad's run. As territory wars rage on in the cartel and secrets between couples begin to build, we're clearly approaching a familiar time for BB fans.
We're taking a closer look at this week's episode, "Talk," and some of the most crucial moments, from Mike's (Jonathan Banks) big meltdown to one nasty cartel massacre. Read on to see what will surely impact the show's future — but beware of spoilers.
The Salamancas Take a Turf War Into Their Own Hands
After last week's near-fatal cover-up involving Nacho and his ties to Gus (Giancarlo Esposito), the Salamanca brothers (Luis and Daniel Moncada) sought revenge on those "accused" of shooting Nacho. Who could this be? Well it turns out that the Espinozas — a rival family — are the ones Nacho says are to blame. Of course, fans know it's Gus who is controlling that finger.
Once the confirmation is there, that's all the brothers need to go into kill mode — a mode fans saw when they attacked Hank (Dean Norris) in a parking lot on Breaking Bad. Still recuperating from his wounds, Nacho is forced to defend the Salamancas to keep their trust but it's clear that he's struggling, and his questioning of Gus later in the episode isn't a good sign. Fans will just have to wait and see how things turn out for this young man who just wants to be free of this life.
Mike Talks
The episode started off with a moment that occurs later on in the action, in which Mike is seen in what appears to be a support group. "He wanted me to talk, I talked," Mike states shortly after we get a flashback of him and son Matty. The series has explored Mike's past a few times, but the writers mislead viewers into thinking he gets outwardly emotional about his son. Instead, Mike reveals that one of the support group members — Henry, played by guest star Marc Evan Jackson (Brooklyn Nine-Nine, The Good Place) — is lying about his dead wife who likely never even existed.
Underneath Mike's distaste for lying is clear pain for the hole his son left behind after the police officer was killed in the line of duty. His unapologetic approach doesn't appear to sit well with daughter in-law Stacey (Kerry Condon), and this could explain some of the tension between them in the future. Mike doesn't often let his emotions show, but much like his big moments in Bad, this scene is certainly among his most iconic on Saul.
Jimmy Takes a Tip From a Criminal
Fans of Bad will remember that, when people referred to Saul Goodman, they called him a criminal lawyer — emphasizing that dual meaning. With his new job as shift manager at a cell phone store, Jimmy is tapping into that side of himself. When he meets up with Ira (Franc Ross) to collect the funds made selling last week's stolen Hummel, the idea of switching phones for his next job sparked Jimmy's creativity.
He heads back to his relatively quiet store and creates some inventive window art that reads, "Is the man listening? Privacy sold here." Of course, this pulls Jimmy further in the direction of Saul, but his new job only came into existence once Kim (Rhea Seehorn) expressed concern for his mental well-being, as he called the employer he previously denied. Sure, it's exciting to see this side fans knew and loved from Jimmy/Saul, but it's clearly distancing him from Kim.
Gus Calls Mike to Duty
Fans saw the introduction between Mike and Gus last season. In "Talk," they were brought back together again — this time for a job. At the tail end of the episode, Mike is called to Gus' warehouse to chat. As they convene in the parking lot, it's unclear what the job is, but it is clear that Gus isn't happy with Nacho. Could this be the end for the young criminal, or will Mike be asked to to something else for Gus and his crew? Luckily fans only have to wait a week to find out.
Better Call Saul, Mondays, 9/8c, AMC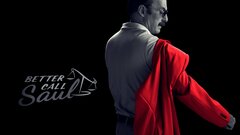 Powered by