'God Friended Me' Co-Creator Calls the Series 'Heartfelt' Without Being 'Preachy'
Miles Finer (Brandon Micheal Hall) has friends in high places in God Friended Me. Well, one very powerful friend in a very high place. Possibly.
The atheist podcaster's world is rocked when he accepts a friend request from a social media user claiming to be God. The strange coincidences that follow lead Miles to journalist Cara Bloom (Violett Beane), and the pair set out to unmask whoever is behind "the God Account."
See Also
Plus, find out when the 'Murphy Brown' revival will kick off.
In their search, Miles and Cara reach out to those whose social media profiles are suggested to them by the God Account, putting them in contact with an array of strangers struggling with their own issues. "What [Miles and Cara] learn helps them in their own lives," says co-creator and executive producer Steven Lilien.
The duo will also deal with personal problems, most notably Miles's fractured relationship with his dad (Joe Morton), an Episcopalian preacher. "The God Account makes Miles question how he sees the world and the way he expresses his message," co-creator Bryan Wynbrandt says.
Despite the theological queries, "The show's not preachy," Wynbrandt adds. "It's a lighthearted but heartfelt approach to examining humanity."
God Friended Me, Series Premiere, Sunday, September 30, 8:30/7:30c, CBS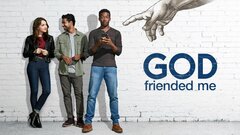 Powered by