Thrilling Eve! 'Lucifer' Casts Inbar Lavi as the First Lady of Eden
Lucifer, you snake!
Having escaped both the wrath of Cain (Tom Welling) and cancellation (praise Netflix!), Tom Ellis' hell-raising Lucifer Morningstar is now set to tangle with another troublemaker of Biblical proportions for his fourth season: TV Insider has learned exclusively that Imposters' Inbar Lavi has been cast as Eve. Yes, that Eve.
Described as "the original sinner herself" in the official release, Lavi's take on the leading lady of the Book of Genesis is apparently over her time in the Garden of Eden. "After an eternity with Adam, she's grown restless in her marriage and longs for a less predictable time when things were exciting. Naughty. Dangerous. She misses her hot and heavy first love…the charming rogue who tempted her so many years ago. That's right, the devil himself…Lucifer."
What that means as for storyline or whether the streaming service's save means fans will get a naughtier Luci than Fox allowed for remains to be seen. But Lavi is fabulous at blending sass and sexiness, and given Tom Ellis' increased time in the gym (as well as his recent Instagram of a particularly telling piece of wardrobe), it's starting to look like that #SaveLucifer hashtag is gonna pay off big time. Except maybe for Chloe!
Like Lucifer, this thing has many names. But unlike our horny hero, it's good at keeping a certain appendage under wraps.
The show is currently back in production and as soon as there is a premiere date, we'll be shouting it from the rooftops. So definitely follow TV Insider on Twitter and Instagram!
Lucifer, Season 4, 2019, Netflix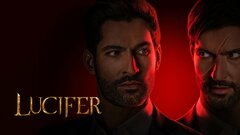 Lucifer
where to stream
Powered by