Roush Review: 'Disenchantment' Goes Medieval With Mixed Results
Once upon a groan… there lived a master animator, King Matt of Groening, who ruled the merry and seemingly limitless kingdom of Simpsonia with an iron wit and irreverence for all. Having conquered the realm of science-fiction spoofery with Futurama, this titan then turned his ambitions to the fertile field of the fractured fairy tale, a favorite since the glory days of Rocky and Bullwinkle.
Alas, Disenchantment more than lives down to its puckish title with a flimsy premise, underwhelming characters and relentlessly labored humor. There are traces of the giddy grisliness found in Monty Python and the Holy Grail and the gag-a-minute vaudevillian genre parodies of Mel Brooks, but freed of network TV's time constraints, Groening and his collaborators struggle to find a jolly or mirthful rhythm.
The animation, however, is glorious, and Mark Mothersbaugh's jaunty score a consistent delight, rendering the show watchable — which isn't always the same as memorable.
Affection for Disenchantment may hinge on whether you find the rebellious heroine, Princess Bean, amusing or predictably tiresome in her boozing, belching and brawling. She's voiced by Broad City's Abbi Jacobson, whose crackled drawl reminded me more of Taryn Manning as Pennsatucky on Orange Is the New Black. Nat Faxon is more goofily winning as nerdy runaway elf Elfo, smitten with the bawdy royal.
The biggest disappointment is Eric Andre as Bean's "personal demon," Luci, a devil on her shoulder who's often mistaken for a black cat. Luci encourages Bean's mischievous streak, but Andre's dry line readings lack the necessary anarchic spirit we've come to expect from cartoon icons like bratty Bart Simpson and Futurama's raunchy robot Bender.
The trio's misadventures in medieval Dreamland are broad in scope and variety, ranging from an exorcism to a clash with Viking party crashers, but it wasn't until the fifth episode (of seven available for review), when they encounter a cannibalistic Hansel and Gretel, that I felt even remotely transported and enchanted.
When you find yourself studying the background to chuckle at signage puns, like a play on 7-Eleven with Roman numerals, it's a letdown to realize Groening has reduced this epic opportunity to a mere game of moans.
2 out of 5 stars
Disenchantment, Series Premiere, Friday, August 17, Netflix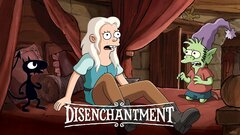 Powered by