'Star Trek: Discovery' Finds Its Young Spock
Star Trek: Discovery has added an important, new cast member.
The CBS All Access series announced Ethan Peck will play young Spock, "the half human, half Vulcan Science Officer of the U.S.S. Enterprise, and foster brother of Michael Burnham (Sonequa Martin-Green)," according to a press release.
"Through 52 years of television and film, a parallel universe and a mirror universe, Mr. Spock remains the only member of the original bridge crew to span every era of Star Trek," executive producer Alex Kurtzman said. "The great Leonard Nimoy, then the brilliant Zachary Quinto, brought incomparable humanity to a character forever torn between logic and emotion. We searched for months for an actor who would, like them, bring his own interpretation to the role.
See Also
The cast and executive producer gave us the scoop on Season 2.
"An actor who would, like them, effortlessly embody Spock's greatest qualities, beyond obvious logic: empathy, intuition, compassion, confusion, and yearning. Ethan Peck walked into the room inhabiting all of these qualities, aware of his daunting responsibility to Leonard, Zack, and the fans, and ready to confront the challenge in the service of protecting and expanding on Spock's legacy. In that spirit, we're thrilled to welcome him to the family."
Peck has acting in his blood — he's the grandson of legendary actor Gregory Peck. His past acting roles include ABC Family's TV series 10 Things I Hate About You, CW Seed's I Ship It, and ABC drama pilot For Love.
See Also
Plus, casting and the CBS All Access show dropped the Season 2 trailer and spinoff news at Comic-Con!
In other Star Trek TV series casting news, Patrick Stewart is slated to reprise his role of Jean-Luc Picard, who has played the character off and on on the small and big screens since 1987, in a new series for CBS All Access.
"Make it so! @SirPatStew will be returning to his iconic role as Jean-Luc Picard in a new @cbsallaccess #StarTrek series that tells the story of the next chapter in Picard's life," the Star Trek: Discovery account tweeted.
The OG cast member couldn't contain his excitement. He tweeted:
It is an unexpected but delightful surprise to find myself excited and invigorated to be returning to Jean-Luc Picard and to explore new dimensions within him. Read my full statement in the photo. #StarTrek @cbsallaccess Photo: @shervinfoto pic.twitter.com/8Ynuj3RBNm

— Patrick Stewart (@SirPatStew) August 4, 2018
Check out the Season 2 teaser trailer below:
Star Trek: Discovery, Season 2, Early 2019, CBS All Access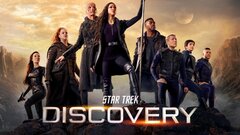 Powered by