Spock & Number One Together Again? Plus, More Scoop From the 'Star Trek: Discovery' Comic-Con Panel
Captain Christopher Pike, played by the late Jeffrey Hunter in the original Star Trek, and now by Anson Mount (Inhumans) in Star Trek: Discovery, isn't the only familiar name who'll be part of the second season of Discovery when the series returns to CBS All Access in early 2019.
San Diego Comic-Con 2018 attendees were treated to a preview of Star Trek: Discovery Season 2 in which Captain Christopher Pike comes beams aboard the Discovery, announcing he's going to take control of it.
Following the clip, Alex Kurtzman, Discovery's co-creator/executive producer revealed that the character of Lieutenant Spock (played by Leonard Nimoy on both television and in films) will be part of Discovery's sophomore season.
Also appearing will be Number One (yep, that's what she goes by), the character played on the original Star Trek by the late Majel Barrett Roddenberry, wife of the late Gene Roddenberry, the series creator.
While the casting for Spock has yet to be announced, it was revealed at Comic-Con that Rebecca Romijn (Mystique, X-Men, X2) has been cast as Number One. The character was first seen in a two-part episode of the original series titled that incorporated scenes from an unaired pilot. Later, that pilot was released in 1986.
See Also
The co-creator of 'Star Trek: Discovery' extended his production agreement with CBS through 2023.
"We are so honored to be in Hall H," Kurtzman told thousands of Comic-Con attendees on Friday, referring to being in the largest hall of the San Diego Convention Center. "Last year, nobody could talk about anything. You were all very generous and this has been an amazing year."
As for why season two won't be available on CBS All Access until next year, Kurtzman explained, "It takes a village with both production and post-production. It's so important to deliver something you guys like that you can't get anywhere else."
But Trekkies won't have to wait until next year for new content. Kurtzman announced that Short Treks, four 10-15 minute stories that will delve into the characters featured in Discovery. Short Treks will debut this fall.
There's good news for fans of Wilson Cruz, who plays Dr. Hugh Culber. The character appeared to have met his final fate after he was killed off by Lt. Ash Tyler (Shazad Latif). "I'm not here just to say hello," Cruz told Comic-Con attendees. "This was just a little bump in the road. I'll be back but I won't tell you how."
Doug Jones commented on how long his character has to stay in makeup while prosthetics are attached to his body so he can play the part of Saru. "For 30 years I've been wearing all kinds of makeup, playing fantasy and animal characters. They've got it down [on Discovery] to under two hours!"
Still, his favorite part of the day is when he gets to take the makeup off and go home. Speaking of going home, Discovery will spend part of Season 2 visiting Saru's home planet.
One attendee asked panelist what tropes associated with the show might be seen in Season 2?
See Also
Plus, find out who's been blocked from reading scripts and get the scoop on the Alicia-centric episode.
"There's tons of stuff about 'red shirts' this year," said Anthony Rapp, who play Paul Stamets, referring to the red-shirted security guards who often met their makers, prematurely, in the original series.
Another attendee asked how cast members deal with negativity given how some viewers are opposed to change when it comes to a new Star Trek series being announced.
"Thank you for that question," responded series lead Sonequa Martin-Green, who plays Captain Michael Burnham. "I think it's just because how profound it is what we're doing. We hope that we give gifts as we're getting gifts. When you're focused on that, the story at hand, the amazing people you get to work with and how it's changing you as an artist, actor and storyteller and hopefully, the people who are seeing it [will be affected, too]. When you think about that, it don't matter. [Any negativity] just dissipates."
Star Trek: Discovery, January 2019, CBS All Access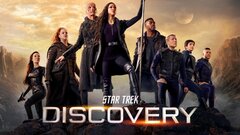 Powered by