'Star Trek: Discovery' Cast on New (Old) Faces, Family Dynamics & Life Post-War in Season 2 (VIDEO)
Who else wishes it was the new year already so we could get new episodes of Star Trek: Discovery?
The CBS All Access series really made a splash in its first season. And judging by what the cast — Wilson Cruz, Sonequa Martin-Green, Shazad Latif, Doug Jones, Anson Mount, Anthony Rapp, Mary Chieffo, and Mary Wiseman — and executive producer Alex Kurtzman told TV Insider and TV Guide Magazine's Jim Halterman in our Comic-Con 2018 suite, it's only going to get better in Season 2.
First off, there's the addition of Mount, who's reprising the iconic role of Captain Christopher Pike — "It's big shoes to fill, and I'm wearing my boots," he quipped.
But Pike isn't the only familiar character that will be showing up, now that we're following him on his journey. Though the show is still 10 years behind the Enterprise timeline, Kurtzman teased that "characters that existed on Pike's ship will probably still exist in our timeline. Any number of people on that ship could probably show up this year."
Jones then shared about how his character Saru compares to some of the other physically challenging roles he's played (aka the Fishman in The Shape of Water). Plus, Martin-Green hinted that viewers should expect the "family dynamic" to be explored — and yes, everyone knows who Burnham's family is…
All that in the video below, plus what's in store for the aftermath of the war, what's next for Cadet Tilly, and more!
Star Trek: Discovery, Season 2 Premiere, January 2019, CBS All Access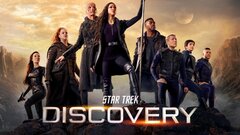 Powered by