'Bachelor in Paradise' Premiere: It's Getting Hot in Here (RECAP)
[SPOILER ALERT: This recap features spoilers from the Season 5 premiere episode of Bachelor in Paradise.]
Becca Kufrin's season of The Bachelorette might be over, which means Bachelor in Paradise is just beginning — and let's be real… this is the show we've all really been waiting for.
And we swear it's not just because it means Grocery Store Joe has made his triumphant return to television.
See Also
They get a second chance at love.
Once again, Chris Harrison has promised us "the most dramatic season ever" of BIP, but is he telling the truth this time? Judging by the premiere alone, there's a chance he could be right.
Ready to catch up with your Bachelor Nation faves? Here's what happened on the BIP premiere:
Hello Paradise!
Let the fun in the sun begin! The #BachelorInParadise premiere starts now! Retweet if you're watching! pic.twitter.com/MX0jic0oWi

— Bachelor in Paradise (@BachParadise) August 8, 2018
After the usual introductions, it was time for everyone's Mexican vacation to begin.
Once these TV personalities started arriving, connections started happening immediately, especially since some people showed up with crushes that they needed to explore.
Just about instantly, Kendall started talking to Joe about having picnics at cemeteries, which is exactly what we would have expected.
Krystal's Back
Of course, when Krystal showed up, pretty much no one was happy to see her.
It's not that surprising, considering the fact that she was pretty difficult to get along with on Arie's season. And Tia wasted no time pointing out that her voice has somehow changed since The Bachelor. Hmmm…
See Also
And gets her happily ever after.
Speaking of Tia — she was heartbroken when Colton didn't show up in right away. But don't worry Tia, he's coming.
Who Run The World?
When Chris arrived, he filled everyone in: This week, the women are handing out the roses, and all of them are safe until next week.
That means the guys better start focusing on finding those legit connections sooner rather than later.
Tia got the first date card, and less than an hour in, she was crying because Colton wasn't there. Are we really going to do this all episode?
Krystal finds Joe stealing away with Kendall…unacceptable. #BachelorInParadise pic.twitter.com/u49B61Md6x

— Bachelor in Paradise (@BachParadise) August 8, 2018
Instead, Tia took Chris on her date — instead of Joe. Girl, your judgment is lacking.
That gave him more time to get to know Kendall, which royally pissed Krystal off. She didn't stay down for long, though, and soon enough, she was moving in on Kevin.
Even though Tia's Colton obsession was way out of hand, her date with Chris went pretty well… even though (predictably) Colton did come up in conversation once or twice. Sigh.
The Man Of The Hour
Colton and Tia have a yacht waiting for them. Colton may have something else waiting for him when they get back. #BachelorInParadise pic.twitter.com/ZIAXyBW3zx

— Bachelor in Paradise (@BachParadise) August 8, 2018
Despite the fact that she was just smooching Chris, Tia could not have said yes faster when Colton offered to take her on a date, after he was handed a date card on arrival.
They spent the day on a boat and not only did they have fun, but they also managed to hash out all the Bachelorette drama. He wasn't able to give her the definitive answer she was looking for… but he did let her know he wanted to figure things out between them. Interesting!
Not everyone was happy to see Colton, though — namely Jordan (the male model), who filled everyone in on how he thought Colton was leading Tia on.
It doesn't look like it's going to be pretty for Colton if Jordan gets his way, because he seems determined to Take. Colton. Down.
If this episode is any indication of the rest of the season, BIP is going to be one wild ride. Will Tia and Colton live happily ever after? The complexities of this relationship are sure to be dissected for episodes to come.
Bachelor in Paradise, Tuesdays, 8/7c, ABC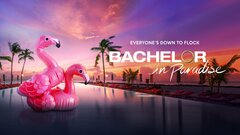 Powered by