'The Bachelorette' Finale: Becca Chooses Her Man (RECAP)
[SPOILER ALERT: This recap features spoilers from the Season 14 Finale episode of The Bachelorette.]
It's hard to believe that it's time for Becca Kufrin to hand out the last rose, AKA The Bachelorette finale is finally here!
So will Becca choose Garrett or Blake?
She definitely has a hard decision ahead of her, especially since she clearly has such strong feelings for them both.
See Also
And they didn't hold back... anything.
But before that happens, Becca's men met her family and then, of course, both had the traditional meeting with Neil Lane to pick out Becca's potential engagement ring.
Here's what you missed on The Bachelorette finale:
Garrett Meets The Family
Becca brought Garrett in first to see her fam, and obviously, what they seemed most concerned about was the fact that he'd been married before — and why it ended so quickly. That's fair!
When he was getting to know Becca's people, he even started crying, which gave him a lot of brownie points, especially with her sister.
Garrett definitely cemented his place in Becca's family's hearts, but would Blake steal his thunder?
Blake's Turn
Blake easily won over Becca's fam, but he probably should have been worrying about winning over Becca instead. She ended up in tears, talking about how until this point, she thought that she'd choose Blake, but now she's having second thoughts — not a good sign for him.
Becca's mom was super sweet to Blake, though, and told him that he'll be okay even if he ends up alone at the end of all of this… which kind of tipped him off to the fact that something wasn't quite right.
A little bit of understatement too. #TheBacheloretteFinale pic.twitter.com/iWQPxOgLSB

— The Bachelorette (@BacheloretteABC) August 7, 2018
Once the guys left, Becca admitted that she could see a future with them both, but has to figure out who she can't live without.
The Last Dates
Becca and Garrett spent their day on a boat, having a pretty fun and carefree day together, which is exactly what she needed in the midst of making such a life altering decision that was obviously causing her a lot of stress.
And even though she seemed unsure about Blake during his visit with her parents, she seemed way more confident when they got to spend one-on-one time together, talking on the beach. Maybe that's all she needed?
Love and dolphins! #TheBacheloretteFinale pic.twitter.com/sWxFeXSlQj

— The Bachelorette (@BacheloretteABC) August 7, 2018
Then, the traditional Neil Lane meetings took place, and the guys picked out engagement rings and planned out their proposals. Anyone else jealous of all those diamonds?
Goodbye To One
After the sweetest proposal, the moment Becca had been dreading finally arrived: she had to send Blake home, rose-less.
She said that although she definitely has feelings for him, she has to say goodbye — and poor Blake was devastated immediately.
On his walk back to the limo, Blake barely spoke, and even cried into the lapel of his suit. It wasn't easy for her, either; once he walked away, she was in tears, too.
Finally alone, Blake broken down and was full on sobbing. Poor guy… But maybe now, he has a crack at being the next Bachelor?
Decisions, decisions. #TheBacheloretteFinale pic.twitter.com/zCxXIeQ5bK

— The Bachelorette (@BacheloretteABC) August 7, 2018
The Proposal
No matter how you feel about Garrett (cough, cough Instagram), this was a pretty sweetest moment.
Garrett arrives. #TheBacheloretteFinale pic.twitter.com/DvRRUqZjgo

— The Bachelorette (@BacheloretteABC) August 7, 2018
Garrett told Becca he wanted to wake up next to her every day, and then she finally told him that she loves him. She also paid him the ultimate compliment that he reminds her of her late father. This is real love, y'all.
Of course, once Garrett popped the question, she said yes, and there was lots of dancing around, kissing, and smiling.
It's official: Becca got her happy ending, and so did we, because Bachelor in Paradise starts tomorrow.
Who else is ready?!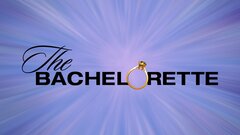 Powered by