'Yellowstone' Star Gretchen Mol on Providing the Late Evelyn With a Backstory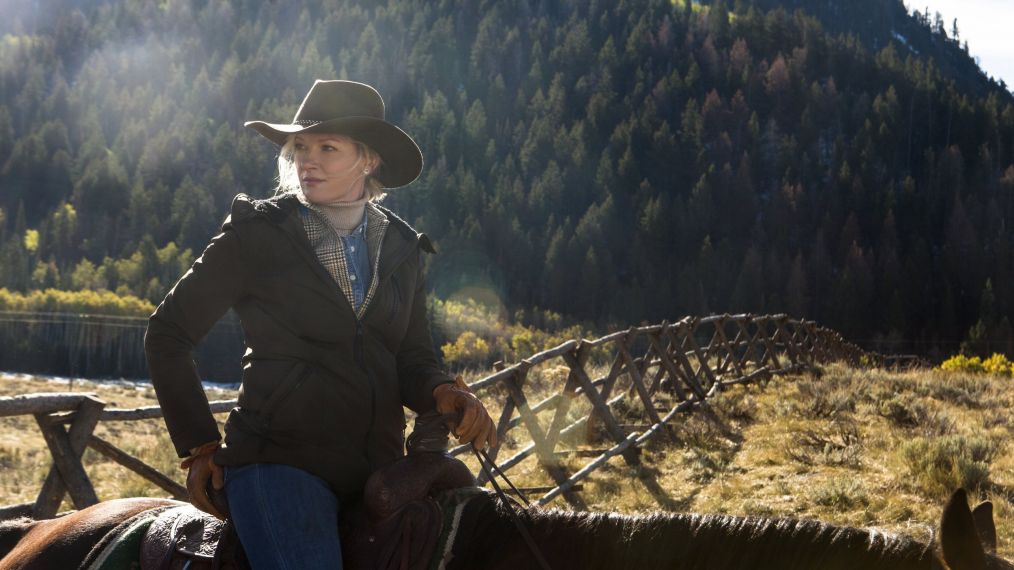 [This article contains light spoilers from the Episode 7 of Yellowstone, "A Monster Among Us"]
In this week's all-new episode of modern Western drama series Yellowstone, the audience gets another short flashback scene of the Dutton family growing up. It's Christmas morning and all the boys are downstairs ready to rip open gifts but young Beth is mysteriously absent.
When her mother, Evelyn, played by Gretchen Mol, goes upstairs to check on her, she finds a sobbing Beth on the bathroom floor suffering from cramps after experiencing her first period. Evelyn runs a bath to calm Beth down and uses the moment to bestow a little wisdom upon her maturing daughter.
See Also
Plus, find out what's in store for the rest of the season in an exclusive clip.
She tells Beth things are different now — you're going to be treated differently by family, friends, and on a much larger scale, by society. As a woman, she must toughen up, work harder, and outlast her male competition in world — it's not going to be easy, but it's going to be necessary to survive. Quite the speech to give to a young girl.
Mol spoke to TV Insider about Evelyn and Beth's complicated relationship, and why giving the late Evelyn's perspective is so important for the series.
"I was happy to illuminate the character [of the mother] in this story," she said, adding that in most real and fictional families "mothers are harder to forgive than fathers," so diving into this role was intriguing.
Read the rest of the interview below.
Do you think Evelyn's speech to Beth was a good parenting move?
Gretchen Mol: When I received the material, I thought, this feels loving but then there's a shift. This is Evelyn's idea of love but it's coming from a place of cruelty that she probably experienced herself [growing up].
She's saying in the speech [to Beth], 'I don't want to do this to you but I have to. It's how I became who I am. You have to be tough and you're going to hate me for it.'
How did you feel delivering it?
As a parent myself, it feels like misguided love. I think Evelyn is worried about Beth's survival. I don't think it's ultimately good advice but I didn't want to pass judgement on Evelyn while playing the character. I tried to understand where she was coming from, but Evelyn definitely does damage.
Before filming, I read this book called You Don't Have to Say You Love Me by Sherman Alexie, which is all about the death of his mother and reconciling her cruelty. I found it so useful.
Where do you think the Dutton sibling rivalry originated from?
I think it comes from the first moment of teaching Beth how to ride a horse with her brothers. As a parent, the weaknesses in our children that are also our own are the things that drive us the most crazy and really test our patience. You have to reconcile them within yourself [in order] to hopefully not pass them down. In this case, I don't think Evelyn has been able to do that.
And Beth can't get over her mother's death…
I think the worst is the feeling of blame for Beth. She thinks in her mother's final moments, that her mother was blaming her.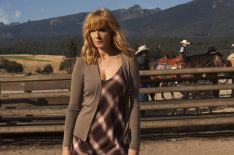 See Also
'I really enjoy playing someone who's imperfect,' the actress admits.
How did you become part of the show?
I got this call [asking], 'Do you want to be involved in this show with Taylor Sheridan?' I had just watched Wind River and it was really me just wanting to be a part of whatever he was creating because I knew there'd be good characters. I spoke with Taylor and we talked about who Evelyn was and I was really interested.
Are you involved with Season 2?
I think we're all open to coming back. Taylor would say that he was excited the whole Dutton family existed together in the flashbacks and he could have fun writing those scenes. He teased whole episodes [of the flashback cast]. I'd love to that, same with Josh Lucas [who plays young John Dutton].
Yellowstone, Wednesdays, 10/9c, Paramount Network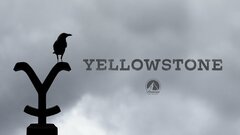 Powered by