'Timeless' Isn't Done Yet — NBC Revives Series for Two-Part Series Finale
It looks like #SaveTimeless worked after all! Well, sort of.
Fans of time-traveling drama Timeless have been campaigning hard for the series to be saved after NBC canceled it in June. And on Tuesday, the network announced the good news that they have renewed it… for a special two-part series finale.
According to executive producers Shawn Ryan and Eric Kripke, these special episodes will wrap up the stories of the show's beloved characters with one final emotional adventure for the Time Team. As for the historical moments of these eps, they will focus on the "unsung and underrepresented" people of our past.
See Also
From 'Timeless' to 'Chuck,' we've got the proof that fan voices do make a difference.
"We're excited to tell one final chapter to this incredible story," said Lisa Katz, co-president, scripted programming, NBC Entertainment. "A huge thank you to all — our cast, crew, producers and partners at Sony – who have worked so very hard, and to the fans who kept us on our toes and made sure we did our very best week after week."
"While we wish we could've made another dozen seasons of Timeless, this is the next best thing," Ryan and Kripke added. "We're thrilled to take the Lifeboat out for one last spin and bring closure to our story. The studio, network, cast and crew are all doing this for one reason only: the fans. Because they deserve it. Because the fans made this happen and we thank them for their passion, support and helicopters. So? You guys want to get Rufus back or what?"
That's music to Clockblockers ears, as they worried Rufus (Malcolm Barrett) — who died in the season finale — wouldn't get the conclusion he so deserved. It may not be a full series renewal, but we'll take it!
Expect the full cast to return, including Abigail Spencer, Matt Lanter, Malcolm Barrett, Goran Višnjić, Paterson Joseph, Sakina Jaffrey, and Claudia Doumit. Stay tuned this holiday season for the final mission!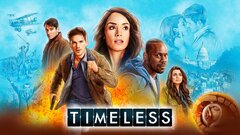 Powered by