Campaign to Save 'Timeless' Fails With No Network Pickup — But What About the Movie?
Timeless fans were met with some disappointing news today as co-showrunner Shawn Ryan took to Twitter to update them on the show's future following NBC's recent official cancellation.
The producer tweeted that he and fellow showrunner Eric Kripke had heard from Sony Pictures that plans to get the show picked up on another network had failed. The actor deals have expired, as well — all signs that a Season 3 just isn't in the cards.
1. @SPTV has notified @TheRealKripke and me that efforts to land #Timeless at another network have sadly failed. While Sony will continue to look at any and all options, actor deals have expired and it appears there will be no Season 3 or beyond.

— Shawn Ryan (@ShawnRyanTV) July 2, 2018
In a series of three tweets, Ryan went on to say that there are still talks to make a two-hour movie happen but there are "considerable economic obstacles that make it an uncertainty."
He also thanked the die-hard fans, also known as the "#ClockBlockers," for their support and tireless campaigning on social media.
"You made a second season possible and gave us hope for a Season 3. We wish the news was better. We love you all," Ryan said.
See Also
Will 'Shadowhunters' or 'Timeless' find a new TV home?
The show's cancellation came several weeks after fans were left in the dark about a potential Season 3. Once it was confirmed that Timeless wasn't returning, at least on NBC, it was then that the studio and network expressed interest in doing a movie that could give the show a proper ending that the fans deserved.
Back in May, Season 2 ended on a cliffhanger, with Lucy (Abigail Spencer) and Wyatt (Matt Lanter) making their way to the present timeline without Rufus (Malcolm Barrett). A movie would certainly address and resolve this plot line, and give us all some closure.
The writers had also released deleted scenes to help motivate fans to keep the show alive.
The Timeless fandom was successful in reviving the show when NBC canceled the series after Season 1, so many hoped it would happen again. Unfortunately, fans weren't as lucky this time around, but there's still a chance a wrap-up movie can happen!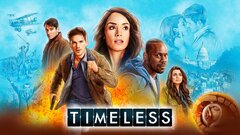 Powered by