All 4 Daytime Dramas Threaten to Boycott Emmys Over 'Lack of Integrity'
Top brass from some of the most popular daytime soap operas such as General Hospital, Days of Our Lives, The Bold and the Beautiful, and The Young and the Restless are threatening to boycott the 2019 Daytime Emmy Awards.
Deadline is reporting that executives sent a letter to The National Academy of Television Arts and Sciences "demanding changes in the voting and accounting practices for the awards and the way the competition is held."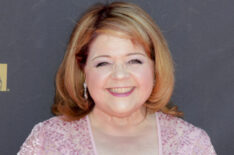 See Also
News recently broke that Darbo's accolade had been rescinded by the National Academy of Television Arts & Sciences (NATAS).
The letter also calls for transparency when hiring the third-party accounting firm, keeping the winners list absolutely confidential, and allowing all members to vote (not just those who the organization deems worthy).
"Our goal is to bring integrity back to the Daytime Emmy competition and awards show," the letter stated, which was signed by General Hospital's Frank Valentini, Days of Our Lives' Greg Meng, and Sony Pictures TV's Steven Kent. "We have no confidence in the ability of the persons currently running the competition to accomplish this goal."
NATAS Chairman Terry O'Reilly released his own statement: "We have great confidence in the integrity of our Emmy awards system, and believe it effectively honors the best work being done in Daytime Television today… we always take concerns about our systems seriously. Out of an abundance of caution I have instructed that outside counsel be retained to evaluate these concerns and conduct an independent look at them."
See Also
Yet another soap star is speaking out after her award was revoked.
Concerns first arose when Patrika Darbo's Emmy was rescinded because of "submission errors" and Darbo claims they knew about the issues but didn't address them until after the show aired.
"They should have vetted each and every submission and then notified those submitting of any submission errors in advance of the voting and the ceremony," Darbo said in a statement. "The inequity in this year's Daytime Emmys based on ageism, gender inequality, and perceived favoritism is, in my opinion, a big blow to the Emmy brand."
NATAS has responded to the daytime dramas' threat with the below statement:
"Today I received correspondence raising concerns about some elements of the 2018 Daytime Emmy Awards and concerns over its administration," Terry O'Reilly Chairman, National Academy of Television Arts and Sciences, said. "We have great confidence in the integrity of our Emmy awards system, and believe it effectively honors the best work being done in Daytime Television today. That having been said, we always take concerns about our systems seriously…and out of an abundance of caution I have instructed that outside counsel be retained to evaluate these concerns and conduct an independent look at them."