'All My Children' Vet Jennifer Bassey Wants Her Daytime Emmy for 'Anacostia' Back
Web series aren't often written about, however, the ongoing backstage soap opera — about a Daytime Emmy Award in a digital drama category being revoked — is getting them some ink.
Jennifer Bassey, best known to soap fans for her run as Marian Colby on All My Children, has released a statement in light of her Daytime Emmy being rescinded.
Earlier this year, Patrika Darbo won the Daytime Emmy for Guest Performer in a Digital Daytime Drama Category for her role as Mickey on The Bay. The National Academy of Television Arts & Sciences (NATAS) revoked the award because Darbo had appeared in a previous season of The Bay, a violation of the awards guidelines/rules.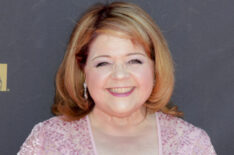 See Also
News recently broke that Darbo's accolade had been rescinded by the National Academy of Television Arts & Sciences (NATAS).
Reportedly, Bassey was informed that she'd be getting the statuette as she had the next highest number votes. She was later told that no one in the category would be receiving the accolade. Bassey's submission had apparently violated another rule, which was that her reel contained more scenes than the rules allowed for. And yet, that was not the reason her award was revoked.
NATAS decided there would be no winner in the category because Darbo and one other performer should not have been in it at all. However, in another acting category, the number of episodes rule may (or may not, per NATAS) have also been violated. But in that category, the actor was allowed to keep his award.
Here is Bassey's statement on the matter:
"I would like to thank Patrika Darbo for setting the record straight. As she noted, I was awarded the Daytime Emmy because Patrika was submitted in the wrong category — and then it was taken away by the Academy several days later due to my producer of Anacostia unintentionally breaking the rules with my submission as well. However, Eric Nelson's [sic] producers [at The Bay] also unintentionally broke the rules with his submission, yet he gets to keep his Daytime Emmy [for Outstanding Supporting Actor in a Digital Daytime Drama] and I don't get to keep mine. Is this fair or gender bias?
"Either his Emmy should also be revoked or I should receive mine. So, #TimesUp, Academy. Give me Daytime Emmy."
See Also
Just how desperate is Theresa to get her man back? We've got the scoop!
Bassey received a nomination for Best Guest Actress — Drama for Anacostia at the Indie Series Awards this year, a Daytime Emmy nomination for Outstanding Supporting Actress in a Drama Series for playing Marian on AMC in 1999, and has won two Soap Opera Digest Awards — one for Favorite Couple (along with her AMC co-star David Canary, who played Stuart) in 1999, and Outstanding Female Scene Stealer in 1998.