'Family Guy' Season 17: Brian Gets Married, Mandy Moore as Quagmire's Daughter & Peter Works for Trump!
The cast and producing team of Family Guy were at Comic-Con 2018 today and they unveiled not only a nearly 5-minute clip previewing season 17, which debuts on Sunday, September 30, but they also shared a bunch of casting news and story developments, too!
For starters, Brian's going to be getting married in a two-part episode in next season's premiere. Also, the show will also pay tribute to the late Adam West who voiced the role of Mayor Adam West for many years on Family Guy.
"We had the good fortune of working with Adam (who passed away last year) for a very long time," says Steve Callaghan, executive producer. "We thought it was fitting to pay tribute to him not only as a character on the show, but as a person in our lives."
See Also
Toks Olagundoye's answer will surprise you.
Family Guy will be needing a new mayor in light of West's passing, but his name will live on within the show when the local high school, currently named after actor James Woods, is renamed "Adam West High."
"And it's a way to stick it to James Woods," quipped Alex Borstein, who voices Lois.
Sarah Paulson (American Crime Story; American Horror Story) will guest star in an episode in which it's revealed that she's Peter's first wife. The show will do an episode in which the Griffin family provides some DVD commentary and that's when it's revealed that Peter (creator Seth MacFarlane) is actually paid by Fox more than Lois is because he was paying alimony to Paulson.
As seen in the clip reel, the show pokes fun at a variety of subjects including Sharon Stone in Basic Instinct, Peter getting his own Netflix comedy special, Cleveland (Mike Henry) showing how to do as little work as possible as a mailman, and Meg saving Stewie from choking to death on a grape. (This will prompt Stewie to want to help get Meg some love in her life.)
Also, Mandy Moore (This is Us) guests in an episode opposite Quagmire (voiced by MacFarlane). "Quagmire hits on a young woman played by Mandy – she's of age – and he uses an emergency DNA test and realizes this is the daughter he never had," explains Callaghan.
"And, relax," quips Seth Greene, who voices Chris. "It's after they've had sex!"
Watch for Bryan Cranston (Breaking Bad) and Niecy Nash (Reno 911, The Mindy Project) to appear in episodes in which they play a married couple.
There's also a two-part episode in which Peter goes to work for President Trump after an event involving Peter and the local news in Quahog.
"Trump and Peter have it out," previews Rich Appel, executive producer. "But I won't say who wins." Watch for it to be an epic battle akin to Peter's explosive fights with the Giant Chicken.
MacFarlane had to leave the panel early to promote other series he's involved with including Cosmos and Orville, but not before he was asked what about keeps the show so successful after all these years.
"The most obvious answer is there are things we wouldn't do now," MacFarlane responded. "It's a hard thing to quantify in small terms. You try to find new ways to stretch the formula and not feel like you're repeating the same half hour every week. I'm very impressed with what [executive producer] Alec Sulkin has done while I've been away. It all comes down to surprising people. The minute you stop doing that you're dead in the water, and I think [Family Guy] has continued to surprise people."
Fan questions included wondering if there was ever going to be an American Dad/Family Guy crossover (not likely, producers responded, given that American Dad is now on TBS) nor are there any immediate plans for spinning off Quagmire.
Another fan asked who might get custody of the kids in the event Peter and Lois ever get divorced?
See Also
And tease the action fans can expect from reboot's 26 episodes dropping soon.
"I remember being devastated by this Law & Order episode in which this divorced couple had a kid and they want the records [related to custody] sealed and when they're finally opened you discover that neither of them wanted the kid," Borstein recalls.
"That would be Peter and Lois. We'd fight about Brian and that's it."
Family Guy may be headed into only season 17 later this year, but it's celebrating its 20th anniversary in 2019 (the show had gone away for a bit and fan response in the form of high DVD sales brought it back).
How do the people who work on the show feel about this milestone?
"The joke answer is to say it's the money," Borstein says. "The real answer is you spend every season working on a show terrified that it's going to end. The comfort and stability that [Family Guy] has offered me is immeasurable, and that is owed to you, the fans. Thank you."
Family Guy, Season 17, September 30, Fox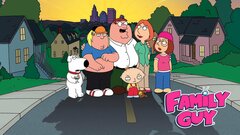 Powered by