'Fear the Walking Dead' Panel: New Cast Additions, Who's Blocked From Reading Scripts & More!
Fear the Walking Dead supporter — and moderator extraordinaire — Yvette Nicole Brown (Community; The Odd Couple) asked producers and cast members to talk about, among other things, the new faces viewers will see when the series returns on Sunday, August 12 (coincidentally Brown's birthday)!
"We have a few exciting people we're seeing the back half of the season," Ian Goldberg, executive producer, says. "They're going to bring very different energies to the show. Some are going to bring humor and a different way of looking at the world. Some are going to bring hope and some are going to, maybe, take away that hope.
See Also
Plus, check out the newly-released official trailer for Season 4B!
"They're going to bring a lot of variety in the show," he continued. "The actors we're bringing on are Aaron Stanford (12 Monkeys), Stephen Henderson (Lady Bird), Tonya Pinkins (Scandal), Mo Collins (Parks and Recreation) and Daryl "Chill" Mitchell (NCIS: New Orleans)."
Here are some other highlights from the fun-filled panel!
On what it was like seeing Morgan (Lennie James) on both shows? "Amazing," says Robert Kirkman, the series creator. "The character of Morgan has been such a huge part of The Walking Dead series. It's been exciting for me because I've been a fan of Lennie's for many years, long before he was on The Walking Dead. The character has lived so far beyond where I took him on the comic book series. The writers [on the TV series] have taken him to places I never could have foreseen and built him into something amazing. It overshadows what I did with him in the comic in a way that I find really gratifying."
On what it was it like shooting those big hurricane scenes? "This is a good time to bring this up," says Alycia Debnam-Carey (Alicia), who turned to producers and joked, "You guys have a vendetta against me! It's funny because I had done a storm movie [Into the Storm] before with, actually, Sarah Wayne Callies (ex-Lori). It's fine when you read it on paper, but the reality of shooting it is uncomfortable to say the least. You're in wetsuits and wet jeans every day, but it was all actually fantastic. We had one day where we had an actual storm and had to postpone for the actual storm to pass so we could get back to our fake storm."
On trying to get daily tasks done while shooting long days: "I had an incident where I needed to go the bank in Austin, Texas," says Danay Garcia (Luciana). "It was three blocks away from the set. I get to the bank and I'm in my costume still and the [teller] said, 'This isn't you!' I'm like, 'No, I'm on a TV show — Fear the Walking Dead.' And she's like, 'That's in Georgia.' I said, 'We're doing a prequel,' and she's like, 'Uh-huh.'"
On an upcoming Alicia-centric episode: "That's the most rewarding episode of television ever (for me)," says Debnam-Carey. "It's a full episode with Alicia. What's important is that she's lost mind. She's lost her brother. She's the only one left from the pilot, I have to point out. I've been waiting for a chance to see her on her own and how she's actually going to deal with all of this. Can she keep going? Will she be more like her mother? Better? Worse?"
See Also
Sometimes actors make the best directors! That seems to be the cast with Colman Domingo, who plays Victor Strand on Fear the Walking Dead. The theater vet is directing his first episode in the second half of Season 4. And wh...
On whether or not it's strange no longer knowing what's going to happen on The Walking Dead: "It really is," says James. "There's a way we get our scripts through a program on our iPads. It's watermarked with your name on it. I go into [the program] to get a Walking Dead script and it's there — but I can't get into it! It's kind of annoying but I don't tell them what's going on with this show. [Laughs] We can both play that game!"
On what caused the Zombie virus: Executive producer Gale Anne Hurd joked: "The meth from Breaking Bad."
Fear the Walking Dead, Midseason Premiere, Sunday, August 12, 9/8c, AMC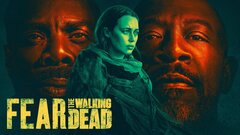 Powered by