'Anne With an E' Star Cory Gruter-Andrew on Cole's Journey & LGBT Representation
The first time Cole Mackenzie (Cory Gruter-Andrew) shows up in Anne With An E's second season, he's drawing in his sketchbook, sitting alone while the other kids play catch and talk.
It's a fitting introduction for the art-loving loner whom the titular character eventually befriends. Throughout Season 2 of the Netflix drama, adapted from the Anne of Green Gables books, drawing (and eventually, sculpting) is Cole's driving passion. It connects him with several kindred spirits and drives him out of his "shell," eventually leading him to the person in which he confides his deepest secret — he's gay.
See Also
Oh, how the gables have turned on the Netflix series!
Coming of age is hard enough in today's world, but Cole faced a unique set of challenges in turn of the century Avonlea as a result of both his sexual orientation and his love for art.
TV Insider spoke with 16-year-old Gruter-Andrew about Cole's fan-favorite status and emotional journey of self-discovery, his character's passion for pen and paper, and his future on the Netflix drama.
How does it feel to play a character with whom so many identify, someone who represents the LGBT community?
Cory Gruter-Andrew: You know, it's really wonderful because there's a lot of people in this day and age who are relating to a character who was portrayed 100 years ago. That's really interesting, to see the challenges people are facing today were faced 100 years ago, except in secret, because [homosexuality] was a crime.
It's really nice to see all the responses on social media, people saying, 'I can relate to Cole in so many ways.' It's nice because a lot of people are struggling with who they are, and that's part of Cole's story. Cole's figuring out who he is, as well. It's just really wonderful to see everyone relating to Cole, and it's really nice that people are finding inspiration in him.
Those scenes were lovely — especially the one where he was talking to Aunt Josephine and said he's like her and Gertrude.
Those were some of my favorite scenes to shoot. She's such a wonderful lady. It was after the whole soiree, the flowers were still up and that was really cool. But shooting that scene was really heartwarming… it was like it was really happening. It was a really interesting scene to shoot, the 'coming out' scene. There were a lot of feelings inside that were mixing together, and it was weird – but a good weird!
Did you know from the beginning that that was an aspect of Cole's character, that he was gay? Or did you find out when you read that script?
In the character description, it did say that he was an LGBT+ character. I didn't know if he was trans, if he was bisexual… I was kind of figuring out who Cole was as I got more scripts.
See Also
Plus, get a sneak peek at his newest Netflix show.
For sure. I know Cole isn't in the Anne of Green Gables books, but did you read any of the books before you started filming?
I actually have not. In my childhood, I never had the opportunity. I should definitely go read them, though! I know that I gave the first Anne of Green Gables book to my cousin as a Christmas present, but I haven't read it myself! [Laughs] I should probably do that.
Since Cole isn't in the books, what sort of inspiration did you take for his character? Did you have to do some research?
I really just looked to Cole for his own inspiration. Cole is his own person, and he has such an interesting storyline that it's hard to find people within that timeline that he can relate to, but Aunt Josephine is one of them. I talked to [actress Deborah Grover] about what it's like to play a gay character, and we had a conversation about that, and that was nice. But I mainly just looked to Cole to be his own person.
What was it like to film those drawing and sculpting scenes? Are you an artist?
I cannot draw to save my life. [Laughs] To be perfectly honest with you, I am not an artist. Cole is definitely the artsy one, and it was really cool because I got to be playing with clay and stuff. My hands got a bit dirty, obviously, but it was fun. It was just like a little art class.
What was it like filming on a set that re-created the turn of the century?
It was really cool. You didn't see too many light bulbs, for one, and the horse and buggy was a new one for me! It really immersed you in the turn of the century a hundred years ago, but then you turn to your left and see someone holding a mic and go, 'OK, it's real-life.'
Can you talk a little bit about the scenes you filmed with Amybeth McNulty (Anne), especially the scene where Cole says he wishes he was ordinary and she says he's unique?
It was tough. Cole, in that moment, isn't feeling good about himself at all. He wants the world not to recognize him. He wants to be as small as possible, and he meets Anne and Anne kind of comes along and — especially in this scene — gets Cole to open up and come out of his shell. That was really a big moment.
Those scenes at the end of the season, where he makes the decision to go live with Aunt Josephine — I cried, when I saw them.
I cried reading them! I was very sad.
What about Cole's progression throughout the season? Because we see him, as you said, trying to make the world not recognize him. But at the end of the season, he's making this big choice for himself.
So Cole, in the beginning of the season, is just kind of drawing for fun… he doesn't have too many friends, he's kind of an outsider, and he doesn't want to be known. Then he meets Anne, and Anne is such a vibrant person — he sees inspiration in Anne, and who she is, and pulls from that. And after he breaks his arm he thinks he's lost everything, but he's really just diverted his path. Progressing who he is, meeting Aunt Josephine; just the whole season he's uncovering so many new things about himself. And putting that on-screen was a challenge, but it was a really fun challenge.
Is there any chance that Cole might come back, even though he's not living in Avonlea anymore?
I am not sure. That's completely up to the writers, and that's their decision. But I'm sure it'd be interesting to see, and people are liking Cole. That'd be a fun thing to see next season, I think.
When he does make that decision to leave and go live with Aunt Josephine, what do you think drives him to make that choice?
Visiting Aunt Josephine, he found someone he really connects with. At home on the farm, that's not Cole. That's not what he wants to do with the rest of his life. What Cole wants to do — he wants to be an artist, and he wants to express himself that way. And he found this group of people, with Aunt Josephine, who love art just as much as he does and that he can truly be comfortable around with who he is. Whereas back on the farm in Avonlea, he's shunned for being who he is, he's made fun of, even. I think he realized in that moment that the better environment for him is in Charlottetown, with Aunt Josephine.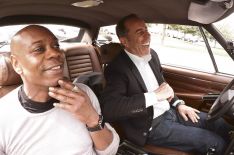 See Also
'Orange Is the New Black,' 'Comedians in Cars Getting Coffee,' & more are new this month.
And by the season's end, do you think Cole has fully embraced his individuality and uniqueness?
You know, I think he's getting there… he will forever grow as a person. And he's still figuring out who he is — he's still figuring out the details, if you will. He realizes that his art is a part of him and he doesn't have to hide that, and with Aunt Josephine… legally, [if he lived anywhere else] he'd have to hide the fact that he's queer or he could be jailed or killed. It wasn't the right thing, but sadly, it happened. I think he's getting there, but he can't share [his sexual orientation] with the public.
What was your favorite moment for Cole's character?
The moment where Josephine is in the hallway and she's weeping, thinking about Gertrude, and along comes Cole! He's looking for some space because he's an introverted guy, and then he comes across Aunt Josephine and they have this wonderful little waltz. It was such a heartwarming scene to shoot. It was wonderful.
Anne With an "E", Season 2, Streaming Now, Netflix
Powered by