How the Gables Have Turned: 'Anne With an 'E' Showrunner on Season 2 Changes
When fiercely rambunctious Anne Shirley returns in Season 2 of the drama Anne With an "E" — Netflix's reimagining of L.M. Montgomery's Anne of Green Gables novels — the adventurous heroine in 19th century Canada faces troubles beyond adolescent concerns such as boys and bullying.
When last we saw them, Anne (the delightful Amybeth McNulty), her adoptive father, farmer Matthew Cuthbert (R.H. Thomson), and his stern but goodhearted sister Marilla (Geraldine James) had taken in two boarders at their Prince Edward Island home to help make ends meet after Matthew suffered a heart attack.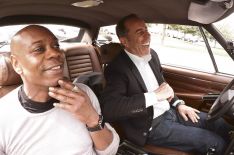 See Also
'Orange Is the New Black,' 'Comedians in Cars Getting Coffee,' & more are new this month.
Season 2 picks up nine months later, with the Cuthberts' tenants — who are actually violent thieves — still living at Green Gables and plotting a long game. "There is a nefarious new normal," previews showrunner Moira Walley-Beckett, who hints that fans needn't worry about Matthew's heart condition. "But they should worry about the Cuthberts."
The slightly darker shift is one of several changes Walley-Beckett made for Season 2. She hired a multicultural, all-female writing team to help round out the story and showcase what she calls the show's master plan: using its platform to address racism, prejudice and intolerance. "My long-term goal was always to diversify this story," she notes. "The original novels didn't accurately reflect the identity of Canada at that time."
To that end, Anne's former school rival and fellow orphan, Gilbert (Lucas Jade Zumann), will set sail on a steamship to earn money. Along the way, he'll make a new best friend (one of three new characters this season) and venture to "exotic ports of call with fascinating people," Walley-Beckett says.
Back at home, Anne and her friends will meet the citizens of the Bog, a real-life enclave of freed slaves on Prince Edward Island. "It's a fascinating but little-known piece of history," notes Walley-Beckett, who felt compelled to incorporate it into the show. "We're telling deeply emotional, intimate and intricate stories about challenging subject matter," she says. "We have all the feels."
Anne With an "E", Season 2, Streaming Now, Netflix
Powered by